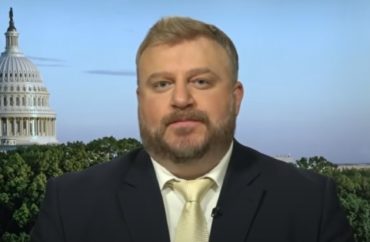 UPDATED
Former Trump immigration official says student visa program could be full of fraud
Universities may regularly commit student visa fraud but there is minimal oversight according to a former immigration official.
Jon Feere, a former Immigration and Customs Enforcement chief of staff, made the comments to The College Fix in light of a pending lawsuit against Columbia University.  Feere (pictured) served in the Trump administration from 2017 to 2021.
That lawsuit, from former Teachers College employee Yocasta Brens, accused the Ivy League university of firing her for being a whistleblower.
Brens alleged that the college "requested that [she] and her staff process immigration documents on behalf of a group of potential students from South Africa without the necessary documentation."
Brens alleged that officials asked her to "certify that certain international students were enrolled full-time when they were, in fact, not full-time students" and "extend students' immigration documents when they did not qualify based on federal requirements."
Columbia officials also ordered her to "ignore the lack of English language proficiency, which is also a federal Requirement."
"Allegations as serious as these are not common but the extent to which schools are engaging in fraud against DHS is largely unknown," Feere, the Center for Immigration Studies' director of investigations, told The Fix on June 27 via email.
MORE: Trump admin proposed rules to stop student visa abuse
This is because the Student and Exchange Visitor Program "does not routinely conduct granular audits that would uncover this type of activity." The program is administered by the Department of Homeland Security.
"Without interviewing students and school officials through random spot-checking it is very difficult for SEVP to uncover fraud of this nature," he told The Fix. "As I understand it, the only reason this is on SEVP's radar is because of Columbia's decision to fire the school official and her decision to respond with a lawsuit."
"If it turns out these allegations are true, it will be a sign that SEVP likely has a very significant problem on its hands," he said. "Columbia is a top-ranked university, and if this type of fraud is happening there, it's hard not to imagine it happening at many of the other, more obscure 15,000 campuses SEVP has certified to enroll foreign students."
"There is significant fraud within the foreign student program, particularly within the controversial Optional Practical Training program, and SEVP should only certify as many schools as it can manage," he told The Fix.
The Optional Practical Training program allows student visa holders to stay in America past graduation for job experience related to their degree. Businesses support OPT because hires do not need to pay payroll taxes, according to previous comments made to The Fix by Feere's colleague Robert Law.
He said the current administration has "halted" further investigations into immigration fraud.
"In the Trump administration we worked to provide them more investigative agents through SEVP's fee-raising process, but that effort was halted the moment the Biden administration took over," he told The College Fix.
He said further:
If a school is determined to have engaged in this type of fraud against DHS, a school's certification to enroll foreign students will be withdrawn for at least a year. SEVP has the regulatory authority to withdraw the certification 'for any valid and substantive reason' and falsifying student information certainly qualifies.
It is "likely" that the student exchange program is considering filing a "Notice of Intent to Withdraw" with Columbia, Feere told The Fix.
The Fix contacted the SEVP program and ICE's media relations team on Tuesday morning to ask for comment on the lawsuit and if it is considering a Notice of Intent but did not receive a response before publication.
"Thank you for reaching out but unfortunately, as a matter of policy, Homeland Security Investigations (HSI) and the Student and Exchange Visitor Program (SEVP) do not comment on any ongoing investigations," ICE Public Affairs Officer Sarah Loicano stated in an email on July 6.
Columbia University did not respond to a request for comment on the allegations sent a week and a half ago.
MORE: UNC-Charlotte charged with falsifying student visa information
Editor's note: The article has been updated with comment from ICE.
IMAGE: Fox News/YouTube
Like The College Fix on Facebook / Follow us on Twitter