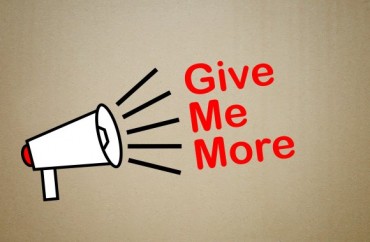 Also mandatory diversity training, 'intersectional' classes, a 'Latinx' therapist 
Students at Sarah Lawrence College occupied a building on that school's campus yesterday, presenting a lengthy list of demands to the school that includes no-whites-allowed scholarships, free laundry detergent, and several new minority therapists.
The Diaspora Coalition, "a group of students who can speak to the injustices imposed on people of color by [Sarah Lawrence College] on a daily basis," posted up in the Westlands administrative building on Monday for a 24-hour sit in, the Sarah Lawrence Phoenix reported. The group presented the university with a list of several dozen demands, ordering the school that the stipulations will be "processed to their fullest extent."
Among those demands, as reported by The Phoenix (bold in original):
All campus laundry rooms are to supply laundry detergent and softener on a consistent basis for all students, faculty and staff…

The College must commit to devising a food plan where every student has access to, at minimum, two meals a day, including weekends, school breaks, and days when the college is closed due to weather. When dining options are closed on campus, the College must provide free meals for students staying on campus, including vegetarian, gluten-free, vegan, halal, and kosher options…

We demand the College provide free storage to low-income and international students during the summer session between academic calendar years…

We demand the College facilitate annual diversity training during the first two weeks of the fall semester mandatory for faculty and first-year students and available to all students and faculty…

We demand the College fund a new scholarship program initiative specifically for students of color, with priority given to low-income and first-generation students.
The students also demanded the school hire "One new Black therapist," "One new Asian therapist" and "One new Latinx therapist."
In addition to the detailed list of material demands, the students also demanded that the college place a professor up for tenure review because of an article he wrote that offended some students on campus. Political science instructor Samuel Abrams generated controversy after publishing an article in The New York Times last fall pointing out that college administrators are overwhelmingly progressive-leaning. A significant backlash followed the publication of that article: An anonymous student called Abrams an "asshole" on his office door, while someone else wrote on a public message board that Abrams engages in sexual relationships with students.
The student group said Abrams should be subject to "tenure review to a panel of the Diaspora Coalition and at least three faculty members of color." The group said that Abrams had "[derided] Black Lives Matter, queer liberation, and women's rights movements" in his op-ed, though they did not provide any evidence to back up this claim.
At press time, one of the hashtags associated with the protest, "50yearsofshame," appears to have generated around a dozen tweets regarding the sit-in.
MORE: Black students demand $900k in new salaries, exclusive building for black students
IMAGE: dzaky murad / Shutterstock.com
Like The College Fix on Facebook / Follow us on Twitter