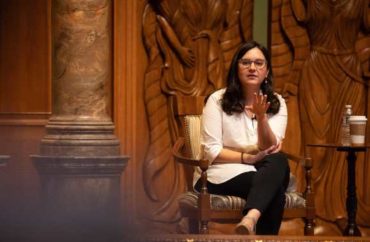 University of Austin's inaugural summer program took place in June
Refreshing. Diverse. "Changed my life."
These are some of the ways students who recently participated in the University of Austin's "Forbidden Courses" summer program described their experience at the newly formed school known for featuring "canceled" professors.
"I can confidently say that my week at UATX was unlike any other educational experience of my life," Hillsdale College student Jane Kitchen stated.
"The students were remarkably diverse—there were conservatives and liberals, atheists and devout Christians, people starting the first year of their undergrad and finishing their Master's program—and we were all eager to learn more about each other, united by our desire to engage with new ideas," Kitchen told The College Fix via email. "It was such a joy to talk and listen to all the thoughtful, interesting people I was surrounded by and being honest and open with each other made it easy to make friends."
The University of Austin, also known as UATX, centers itself on principles of civil discourse and the fearless pursuit of truth. Its inaugural summer program took place in Dallas from June 13 through June 24.
Students who attended the two-week program took part in seminars and workshops led by prominent, independent-minded scholars. Many of these professors have made headlines for refusing to submit to the diversity, equity and inclusion dogma that has taken hold of higher education.
Human rights activist Ayaan Hirsi Ali, for example, spoke on free speech, religion and women's rights. Philosopher and author Peter Boghossian, one of the school's founding faculty members, known for his criticism of the peer-review process in academic journals, taught a course called "Street Epistemology" on how to have reasoned conversation to change someone's strongly held beliefs.
Student reactions to the lessons have been "overwhelmingly positive–and universally so," Boghossian told The Fix in an email. "I frequently heard phrases like 'changed my life.'"
He said the students were "remarkably thoughtful and knowledgeable [and] they were also eager to have open and honest conversations."
Sophia Sadikman, a Brown University student who took part in the summer program, said in a statement provided to The College Fix that "I truly feel like I've learned more here than I've learned in my undergraduate experience in college, in just a short amount of time."
Arien Wagen, a student at Northeastern University who participated in the program, called his time at UATX "refreshing" in a statement provided to The Fix.
The scholars and his peers were all "willing to hear what each person has to say, they're willing to lend a lot of credibility to each person's ideas, and there's an atmosphere of humility that, I think, makes UATX stand out from my other experiences in high school and in higher education," he said.
Among the speakers was former New York Times journalist Bari Weiss (pictured), one of the school's founders, who delivered a speech about "the broken moment that we're in as a culture, as a country, about what I think is required of us to meet this moment."
Weiss lamented the rise of "the politics of censoriousness, forced conformity and ideological obedience" which, according to her, has permeated all aspects of society, from universities to marriages, and went on to list numerous examples.
"If you are sitting in this room you know this better than most Americans because you are living it," she told the students.
University of Chicago physics Professor Dorian Abbot, who taught approaches to climate change to the students, told The Fix via email that the "most exciting part was that we were able to have conversations over meals that everyone agreed they wouldn't feel comfortable having on their regular campus."
Jacob Howland, an instructor at UATX who taught on ideology, told The Fix the scholars teaching the students over the summer represent academics who have been "canceled, driven out of places where they once flourished."
"But it is useless to look back in sorrow and regret at what was. At UATX, we look forward with eager anticipation to what will be," he said. "That promise is what attracts great minds to this enormously exciting endeavor. We are using our accumulated collective wisdom to build the university America needs and future generations deserve."
Program offered 'the increasingly rare opportunity for true intellectual exploration'
Another student participant praised the program's "incredible amount of ideological diversity, as well as diversity of backgrounds and diversity of interests."
"I think UATX really did a wonderful job bringing all different types of people together of different backgrounds, different viewpoints. … We all managed to get along," Andrew Liu, a student at University of Pennsylvania, said in a statement provided to The College Fix.
"We all managed to engage in incredible conversations. I think I've learned more from this week, frankly, than I have in many of my semester-long classes. And I think a big part of that was just by having these conversations with other students in my cohort who really have these incredible ideas and who are incredibly curious," he said.
The mother of Hillsdale's Jane Kitchen is AJ Kay, a writer and mother of four. Kay said she was surprised when, on the second day, her daughter stopped responding to texts and phone calls.
"I suspected it was the best kind of radio silence: the kind where your child is so enraptured with whatever is happening in real-time that they forget for a moment that you exist. And I was right," Kay said. "She was too busy reveling in what was essentially a brand new world of open debate, inspiring lectures, and challenging conversations to think about her old world. UATX gave her the increasingly rare opportunity for true intellectual exploration in an environment that valued civil discourse, open inquiry, and the pursuit of truth."
Kitchen had transferred to Hillsdale from Bryn Mawr College last winter after having grown weary of the college's COVID regulations and remote learning during the pandemic.
"I had been aware of and interested in UATX for a while—pretty much since it launched. I was disappointed by my experiences with higher ed, and when I heard there were people trying to build something different, I was immediately drawn to that," she told The Fix.
Kitchen participated in the second week of the program and registered for Kathleen Stock's course "Varieties of Feminism and their Political Subjects."
"Kathleen started our course by encouraging us to speak our minds, saying that she wanted to hear from everyone," Kitchen said.
If she had one main suggestion for room for improvement, Kitchen said, it was that the program was "somewhat lecture-heavy" and "may have benefitted from more interactive activities."
MORE: 'Its north star is truth': University of Austin founders move forward
IMAGE: UATX/Facebook
Like The College Fix on Facebook / Follow us on Twitter