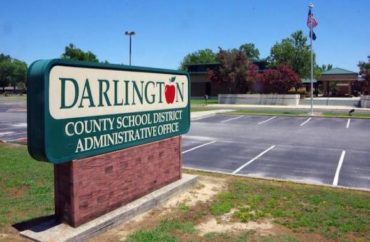 Over 30 students ransacked their high school last week in an apparent "prank," the damage of which included egged doors and windows and graffiti on walkways, walls, and windows.
However, WBTW reports officials at South Carolina's Darlington High School do not plan to involve law enforcement at this time despite "damage requir[ing] 'extensive work' from custodial and school staff" and potential criminal charges of trespassing, vandalism and burglary.
In restorative justice style, that decision was made "in consultation" with local police so as "to keep the students from getting criminal records."
Other damage in the school included "trash cans containing food and milk turned over and garbage spread throughout the yard and buildings," "the principal's office and the central office broken into and vandalized" and "classroom furniture thrown down the hallway."
Darlington County School District Superintendent Tim Newman said that while "this was a serious situation with serious consequences," the incident "does not have to define the future of these students." Darlington Police Chief Kelvin Washington added that while "multiple laws were broken, and charges [still] could be brought against the violators," he supported the district's decision.
MORE: Teacher: A student stole my car and received no discipline from the school, cops
Darlington High is over 60 percent African-American with the entire the student body eligible for reduced or free school lunch.
District officials did end up suspending all involved until the end of the school year, with seniors also banned from senior week activities and the graduation ceremony. But some parents thought even this was too harsh:
"My daughter. She participated. I gave her permission," one parent said. "If I was a parent that knew they allegedly broke again [sic], we would not have let these kids go. It was planned. We would not have let them go down there if they trespassed. Theft. Damaged property. These kids work hard. I invested in my daughter. Because that's what parents do. That's why we are here. My daughter worked hard."
Another mom said "For what they are referring to as a crime that was committed is a little severe. And over the top. They could have these kids come in over the summer. Paint clean, wash windows. Do anything. Dedicate time to the school. Volunteer. You know restitution. But, for God's sake don't take away them walking and graduation."
MORE: Philly teachers fed up with knuckleheaded discipline policies
IMAGE: WNCT / Twitter screencap
Like The College Fix on Facebook / Follow us on Twitter