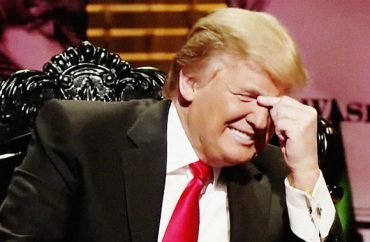 Around the time of Donald Trump's inauguration in January 2017, researchers studied students from Arizona State University and discovered that a quarter of them suffered from stress "on par with that of school shooting witnesses" after seven months' time.
Published today in the Journal of American College Health, the study notes that 25 percent of 769 students reported "clinically significant" levels of stress after The Donald became president.
It was worse for women, blacks, and non-white Hispanics, the Daily Mail reports: Forty-five percent of those groups were "more likely" to experience dismay.
Lead researcher Melissa Hagan of San Francisco State University attributed the high stress levels to Trump's "divisive tone" regarding race and identity.
Most (56.4 percent) of the students, who live in a state that voted for Trump, said they were not happy with the result – 20 percent somewhat dissatisfied, and 38 percent completely dissatisfied.

Meanwhile, 18.5 percent of the students said they were completely satisfied with the result, and 25 percent were somewhat satisfied.

In terms of how the election impacted their lives, 65 percent said there was no impact. Ten percent said they saw a positive impact.

But a quarter were so crestfallen their symptoms would be deemed a medical condition, severe enough to interfere with their work, social activities, and personal relationships.

White people were less affected than black and non-white Hispanic students. Women were 45 percent more likely to be distressed than their male peers. Non-Christians were far more distressed than Christians, the study found. …

The election also came amid soaring rates of stress and anxiety among young people, the generation who have grown up with social media.

Most of the students in the study said they consumed their election coverage via social media, which psychologists and pediatricians warn is usually the driving factor for millennial anxiety as it fuels extremist, angry pockets among like-minded groups.
Hagan, a psychology professor, added that "shock" also played a role — Trump's election victory caught many Democratic voters flat-footed.
She hopes the research will help people realize that the 2016 election was a "traumatic experience that may be interfering with their work and lives."
MORE: Prof: Trump won by 'invoking the history of white supremacy'
MORE: Prof calls election 'act of terrorism,' forces Trump supporters to stand
IMAGE: YouTube
Like The College Fix on Facebook / Follow us on Twitter