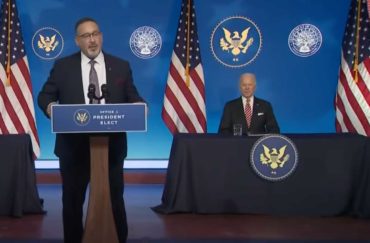 Federal government under President Biden has paid out $32 billion to absorb student loans through 'targeted initiatives,' according to Forbes
President Biden has already discharged $32 billion in loans for several categories of student borrowers since the beginning of his term, in advance of his promised August announcement regarding mass cancelation.
U.S. Secretary of Education Miguel Cardona said Sunday on NBC's "Meet the Press" that Americans can expect an update in "next week or so" as to whether Biden will extend the federal student loan payment moratorium set to expire August 31 or "forgive" more debt.
A program begun under President Donald Trump and continued under the Biden administration has already offered debt relief to several categories of borrowers, characterized by their job, disability, or having attended a college with proven deceptive or improper practices, according to an August 18 article in Forbes. The Department of Education has spent roughly $32 billion on these "targeted" student loans since the beginning of the Biden administration, Forbes reported .
The total expenditure has already been "more than any previous president, but less than 2% of the $1.75 trillion in student loan debt outstanding," higher education finance expert Mark Kantrowitz told The College Fix in an August 18 email. Kantrowitz is the author of five books about paying for college, according to his website.
The Department of Education canceled $13 billion in loans for students "harmed by their schools through misrepresentations or school closures,' Forbes reported; another $9.6 billion went to the 175,000 borrowers who committed to working at least 10 years at nonprofit or public organizations, and another $9 billion was disbursed to students whose permanent disabilities affect their ability to pay.
Most recently, the department spent $3.9 billion canceling loans for the more than 200,000 students who attended the now defunct for-profit ITT Technical Institute, NBC reported August 16.
ITT "engaged in widespread and pervasive misrepresentations related to the ability of students to get a job or transfer credits," according to an August 16 news release from the Department of Education.
"ITT Tech's leaders intentionally misled students … to profit off federal student loan programs," Secretary of Education Miguel Cardona tweeted August 17. "It is time for student borrowers to stop shouldering the burden from ITT's year of lies and false promise."
ITT Tech's leaders intentionally misled students about the quality of their programs to profit off federal student loan programs. It is time for student borrowers to stop shouldering the burden from ITT's years of lies and false promises. pic.twitter.com/8rjzNCJEiG

— Secretary Miguel Cardona (@SecCardona) August 17, 2022
Financial experts expressed a range of views on 'targeted' cancellations
College tuition expert Kristina Ellis called the student loan issue "out of control" through a media representative and told The College Fix it is usually difficult to get student loans discharged under some programs.
"It's not as easy [to get targeted student loan forgiveness] as some people sell it," the chances of you actually getting your debt forgiven are slim," the Ramsey Solutions host previously told The Fix through a media rep.
Only two percent of applicants for public service student loan forgiveness were approved, Ellis told The Fix, providing an example of the difficulty of getting loans discharged.
However, other financial experts voiced support for targeted cancellation.
"Biden's targeted forgiveness is good public policy … it is fair and should reduce the pressure for broad loan forgiveness," Sandy Baum told The College Fix via email. Baum is a senior fellow at the Center on Education Data and Policy. However, "the federal government should do a better job of preventing students from borrowing for institutions we know will not serve them."
"Teacher Loan Forgiveness, Public Service Loan Forgiveness, and forgiveness for military service are long-standing programs," financial expert Kantrowitz stated. They have "bipartisan support" because they allow policymakers to "put their own stamp on it," he wrote.
However, "the idea [of targeted loan forgiveness] has grown beyond the original purpose of providing a safety net for borrowers who are struggling to repay their loans, to a default choice," Kantrowitz told The Fix.
MORE: Cosigning for student loans comes with big risks and big burdens, experts say
IMAGE: Washington Post/YouTube
Like The College Fix on Facebook / Follow us on Twitter