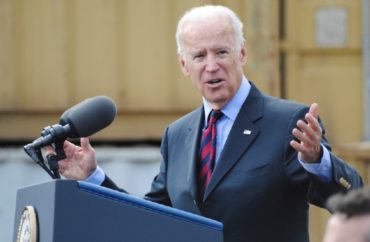 OPINION: The Bidens oppose any limits on what books students can read at school so now D.C. students have more options
Washington, D.C. residents, including students, can soon read a book by Tara Reade, who has accused the president of sexually assaulting her.
"I was asked to respond to your inquiry about Tara Reade's book Left Out: When the Truth Doesn't Fit In," a D.C. Public Library staffer wrote to me on Wednesday. "I was able to find it listed in one of our vendor's ordering databases, so [I] have placed an order for this title."
The purchase finalizes a quest that began in September 2022 when I first sought to see if the D.C. library would expand its offerings, given First Lady Jill Biden's statement that "all books" belong in libraries.
The comments were presumably in reference to states like Florida that have sought to protect kids from being exposed to pornographic materials in school libraries or in the classroom.
Her husband takes seriously any opposition to restricting materials — after all, President Biden's attorney general once ordered federal law enforcement to quell protests at school board meetings by activists opposed to critical race theory and sexualized content.
"Where's the line, in your opinion, with how much of a say parents have when it comes to what their kids are learning in school? Is there a balance between, you know, 'This book should be in the library, this book is under review…,'" Sheinell Jones asked First Lady Biden in September during an interview on the "Today Show."
"All books should be in the library. All books. This is America. We don't ban books," she said.
President Biden recently reiterated his support for allowing all books into the classroom and library.
"I never thought I'd be a president who is fighting against elected officials trying to ban, and banning books," he said on April 24 at an event honoring teachers. "Empty shelves don't help kids learn very much. And I've never met a parent who wants a politician dictating what their kid can learn, and what they can think, or who they can be."
Now the shelves of the D.C. library will be one book fuller to help kids learn about the allegations against Biden.
I wrote a book…✨

"Left Out: When the Truth Doesn't Fit In"https://t.co/E4YiBu6vbJ to order as well or any bookstore. https://t.co/v9JBgEWW7V

— Tara Reade 🐎 (@ReadeAlexandra) December 4, 2021
Reade's book details "the aftermath of the re-victimization of speaking out about her sexual assault, with then-Senator Joe Biden in 1993," which led to "shaming, attacks, and threats instigated by the media [that] sent her into a personal tailspin," according to a description on Amazon.
"Tara-rized viciously by cyber bullies, receiving death threats and fearing for her life and those of her family, Tara tells how living with no regret and coming forward was right for her conscience," the book description states.
Thanks to my advocacy, all D.C. residents can soon read about this book, just two years after the initial publication.
I do have a small fear that given the weaponization of the federal government by President Biden against conservatives I may end up on a watchlist, but I go to the Latin Mass, so I am probably already on at least one.
MORE: 1,170 pages of presidential records found at Penn Biden Center
IMAGE: Marlin 360/Shutterstock.com
Like The College Fix on Facebook / Follow us on Twitter