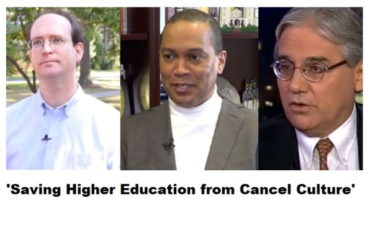 Quick — you're being targeted by the cancel culture mob. Your inbox is blowing up. Your Twitter mentions are filled with hate. There's a petition demanding your termination.
What do you do?
According to three professors who've all had this happen to them recently — they all agree on one thing — don't cave.
"The pressure to apologize in an effort to appease one's tormentors can be tremendous, but do not give into the pressure. If you feel you did no wrong, do not apologize," said Princeton University classics Professor Joshua Katz.
"I have watched people abase themselves before the mob in an effort to receive mercy for what should at most be a misdemeanor and be mocked for it—for there is no redemption in the new woke religion," he said.
Katz made the comments during an August 30 forum, "Saving Higher Education from Cancel Culture," which also featured DePaul University philosophy Professor Jason Hill and Cornell law Professor William Jacobson.
Jacobson, who was targeted by a so-called cancel culture mob over the summer, warned the unrest and tensions on campuses today are being used by certain groups to increase their power.
"This is a power play. … What we're seeing going on, on campuses and in the culture, more broadly, is an exercise of power to prevent open debate of ideas," Jacobson said during the two-hour discussion hosted by the Legal Insurrection Foundation.
In June, some in the Cornell community had mounted a campaign to get Jacobson fired after he published two posts on his conservative blog, Legal Insurrection, that bluntly criticized the Black Lives Matter movement amid the George Floyd protests and riots.
Jacobson said he decided to "go public" about the attacks against him rather than cower after he learned the targeting was a highly coordinated effort.
"I understand revolutionary movements and neighbors denouncing neighbors. Colleagues, workers denouncing other workers, is one of the hallmarks of a revolutionary movement — and that's essentially what cancel culture is," he said.
While the effort to cancel Jacobson was unsuccessful, the venerable law professor was still publicly censured by his dean and many students have called on their peers to boycott his classes.
Jacobson said he's lucky he has job protection.
"The damage from cancel culture is not to the people who are able to survive, who have a platform or job protection," Jacobson said. "It's to everybody else who doesn't have those benefits and those protections. They are scared into silence."
Professor Katz, who came under fire in July for his dissenting letter against his colleagues' racial justice demands, said that in the current climate "pretty much anything that goes, even mildly, against the reigning and increasingly radical and bizarre orthodoxy can lead to 'cancellation.'"
"In recent years, and especially recent months, people inside the academy have, with frightening rapidity, persuaded a considerable segment of the populace that words are violence and need to be policed," Katz said. "Even more frightening is that these ideas have been coupled with violent actions and calls for defunding the actual, non-metaphorical police."
Katz said most of the outcry he faced was not over the major points of his letter, but over his short reference to a now defunct black student group as a "terrorist organization." He noted the "backlash was fierce" as even the president of Princeton had personally denounced him.
But, he added, "free speech is a bedrock principle. If we cannot agree on this, then we are lost as a nation."
"My fellow denizens in the ivory tower are waging a war, and it is no longer advisable for me to retreat fully into the stacks of Princeton's wonderful library," Katz said. "I only wish that I had spoken out sooner. Consider the newly dominant word 'antiracism.' It sounds attractive but isn't. In fact, it is a Trojan horse for race-based discrimination of its own kind."
Professor Hill, who sued DePaul University for allegedly censuring him for his pro-Israel views, has had his peers publicly condemn him and petitions lodged against him. He said he's lost almost all his professional friends, even though he had been teaching at the university for 20 years.
Still, he said he strongly concurred with his fellow panelists.
"One does not capitulate one inch to the adversary, one does not apologize, one does not offer any kind of appeasement to one's adversaries when one knows that one has not, in any way, committed an egregious act or violated anyone's individual rights," he said. "What one is doing is exercising one's First Amendment rights and doing it in, I think, a quite measured and quite principled manner."
Robert Shibley, the fourth panelist and executive director of the Foundation for Individual Rights in Education, an organization focused on protecting free speech rights on campuses, mentioned how much students have shifted in their views of the First Amendment, from staunch to support in the past to now being hostile to it.
Shibley said a major reason that "cancel culture" is so effective is because it creates the impression that the whole world is attacking when, in reality, it may only be a "few dozen people." Therefore, he also recommends pushing back.
"We do need a cultural shift in which people are given some room to be wrong and where our first impulse is to try to convince our opponents, rather than destroy them," Shibley said. "I do think that if they don't stop doing it soon, there will be no saving our society from the really ugly ramifications of where this can go."
MORE: This professor criticized black terrorism. Now they're trying to cancel him.
Like The College Fix on Facebook / Follow us on Twitter