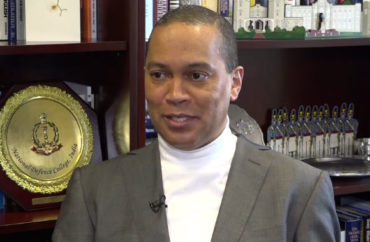 'He has departed from the opinion' that a gay Jamaican immigrant should have
A tenured philosophy professor at DePaul University is suing the institution and two senior faculty members for alleged retaliation against him for his pro-Israel views.
In the lawsuit, filed in Cook County Circuit Court, Jason Hill describes a "hostile work environment" and a "campaign of intimidation and demonization" against him because he "freely spoke his mind."
Several faculty have "petitioned their own faculty chairs to prohibit Dr. Hill from teaching upper-level classes," and encouraged students to "boycott his classes," the suit alleges, claiming defamation and violation of his due process and contractual rights. He has suffered damages such as "Censorship, Financial Loss, and Public Humiliation and Scorn."
Perhaps most explosively, Hill (above) claims he is being punished for not fitting DePaul's stereotypes of a homosexual Jamaican immigrant of African descent.
The defendants have targeted Hill because "he has departed from the opinion" that they have "deemed permissible and acceptable for someone of his race and sexual orientation" to hold, the suit argues.
MORE: DePaul earns 'Lifetime Censorship Award' from civil liberties group
The April 20 lawsuit, first flagged by Legal Insurrection, marks the culmination of events that began in April 2019.
Hill wrote an essay in The Federalist on the "moral case" for Israel to annex the entirety of the highly disputed West Bank and Gaza Strip. This incited an uproar at DePaul, with the Faculty Council approving a resolution condemning Hill for promoting "racism toward Arabs generally and Palestinians in particular" as well as "war crimes and ethnic cleansing."
Students at DePaul were similarly outraged, staging multiple campus protests. The university chapter of Chicago Area Peace Action, for example, started a petition to convince the administration to censure Hill and compel him to take "racial sensitivity training" and apologize for his "immoral conduct." He refused both.
Hill declined an interview with The College Fix, saying his lawsuit remains "the safest course of action for now as far as a statement from me is concerned." He told The Fix a year ago he was contemplating legal action and had faced "slander, harassment, inaccurate accusations and death threats."
DePaul media relations has not responded to multiple Fix inquiries. Neither have the individual defendants, Provost Salma Ghanem and Faculty Council President Scott Paeth.
MORE: Faculty condemn Hill for pro-Israel views, advocating 'war crimes'
WE THE STUDENTS DEMAND @DePaulU TO CENSURE PROFESSOR JASON HILL NOW!! We will not stop until our demands are met! #WhatMustBeDone #DePaulDumpHill #HereWeDo pic.twitter.com/kc61I3Qg3E

— SJP DePaul (@SJPDePaul) April 24, 2019
Outdated but 'more defamatory' version of resolution published
Hill had already ruffled feathers at DePaul with his public statements before his essay in favor of annexation.
He has criticized the bleak racial outlook of another black writer, Ta-Nehisi Coates, and said Americans "need to be fortified with a rational pride that recognizes what is great about America." Hill also asked President Trump to deploy the military to Chicago to stop the "genocidal warfare against black and brown bodies by other black and brown bodies."
After Hill's essay was published a year ago, the campus was inundated with flyers calling for "punitive actions" to be taken against him. One such protest included signs reading "DEPAUL MUST DUMP HILL!" and "PALESTINE IS NOT UP FOR DEBATE."
DePaul Students for Justice in Palestine's Twitter account still uses a year-old statement against Hill – for creating "unsafe and uncomfortable spaces for everyone" – as its pinned tweet. The club told The Fix Friday that it "will be releasing a statement soon and may answer questions upon its release."
MORE: DePaul bans Ben Shapiro
Hill emailed Provost Ghanem on April 26, 2019, that campus security was extending the "escort" he had been given on campus in response to the distressing environment he was facing. He expressed worry that he would be "tried in a Kangaroo court" before his "peers and graduate students," and feared that "some members of the department are undermining that feeling of safety I have felt in my home institution."
He concluded his email by pleading for assistance: "I am truly, here, asking for your help." Ghanem responded by "not by offering any aid, or even sympathy, but by publicly encouraging those attacking him," the suit claims.
The university encouraged a boycott against Hill by hosting a May 28 dinner event entitled "Come Celebrate the Censure of Professor Hill." It was sponsored by his own philosophy colleagues and "six other departments."
The lawsuit explains at length how Ghanem and Paeth, the Faculty Council president, worked to defame him in the process of passing the resolution condemning his Federalist essay.
Professor sues DePaul Unive… by The College Fix on Scribd
MORE: Hill says forcing students to read Ta-Nehisi Coates is 'child abuse'
Paeth authored the resolution and "orally advocated in favor" of it, while he "cut off remarks from Council members supportive of Dr. Hill" in violation of council procedures.
Moreover, despite the vote to remove "the defamatory claim" that Hill had "abus[ed] his academic freedom," the version published in The DePaulia student newspaper was actually the "original more defamatory version" and remains "the only version extant." Neither Paeth nor Ghanem tried to "create, or to see that anyone else create," the as-passed version of the resolution, he said.
Ghanem was also present at this council meeting as a guest. Commenting in support of the resolution two weeks after it was released, she expressed her sorrow that "Professor Hill used his right to academic freedom and free speech to disparage one group over another."
Given that the statement that Hill had "abus[ed] his academic freedom" was voted out of the as-passed resolution, Ghanem was making "a false claim" that the council had endorsed such a contention, the suit claims. "Because the accusations in Paeth's resolutions are false" – the original and as-passed versions – their very existence is "defamatory per se."
MORE: DePaul bans 'Unborn Lives Matter'
The defendants also "subverted procedures set up to allow the accusations internally to be proven untrue, thus forcing Dr. Hill to seek redress" by means of his recent lawsuit, it claims.
Hill's race and sexual orientation are part of the motivation for the university and his colleagues treating him with such hostility, he argues.
They "require" him to "espouse prevailing liberal opinion" on the Israeli-Palestine conflict, meaning that he must be in favor of "the [Palestine Liberation Organization] and against Israel." They also "expect him to adhere to the opinion that African-Americans whose ancestors were slaves must view the Palestinians as an enslaved race."
Hill is seeking punitive damages for defamation and "intentional, malicious interference" with his personal and professional life against the defendants. Only this sanction can "deter similar conduct in the future."
MORE: Dozens of layoffs at DePaul as enrollment plunges
IMAGE: Tea Partier/YouTube
Like The College Fix on Facebook / Follow us on Twitter