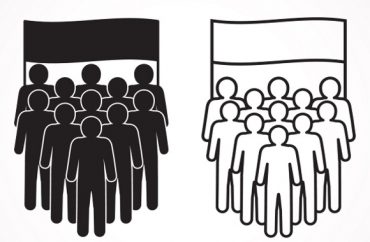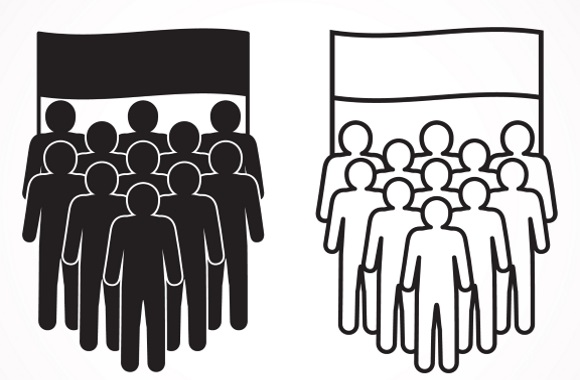 College goers, either freshly arrived on campus or those who've miraculously made it through a year or two without encountering a "marginalized" student group's ridiculous illogic, can be quite confounded when they finally witness such organizations' wants and demands.
The long, hard fight for equality and basic American rights for all has taken a turn in the last twenty years or so. Where racial segregation once was anathema, now it's encouraged and sanctioned — a "safe space" where minorities of like hue can mingle and chat about "common cultural" matters. Like race-themed dormitories. Racially separate graduations and convocations. Etc.
The befuddlement of the racially uninitiated is a legitimate phenomenon. If you're a part of this group, just be sure not make the mistake of questioning the prevailing narrative, however. You'll be in for a world of shame and ostracism.
The latest manifestation of racial duplicity comes from vehemently anti-Trump (last fall she called upon the media to "tell the truth" and liberally use terms like "white supremacist" and "white nationalist") sports writer Jemele Hill, whose first article for The Atlantic calls for black college athletes to refuse to play for predominately white college teams and instead enroll at HBCUs, Historically Black Colleges and Universities.
Part of Hill's argument is that HBCUs need money. Whereas PWIs (Predominately White Institutions) are flush with cash, "the average HBCU endowment is only one-eighth that of the average predominantly white school," Hill writes. "[T]aken together, all of the HBCU endowments combined make up less than a tenth of Harvard's."
Consider too, that, despite the financial disadvantage, HBCUs "have produced 80 percent of the black judges, 50 percent of the black lawyers, 50 percent of the black doctors, 40 percent of the black engineers, 40 percent of the black members of Congress, and 13 percent of the black CEOs in America today."
(Liberal pundit and college prof Jason Nichols argued last evening that HBCUs need more government funding; why should a vestige of legal segregation continue to be maintained by the state?)
Since those percentages are contemporary, this means all those lawyers, doctors, et. al. chose to attend HBCUs. In that vein, Hill proposes black college athletes, including the best of the best, operate as a collective and begin playing at HBCUs. Doing so would bring much needed funding:
Bringing elite athletic talent back to black colleges would have potent downstream effects. It would boost HBCU revenues and endowments; stimulate the economy of the black communities in which many of these schools are embedded; amplify the power of black coaches, who are often excluded from prominent positions at predominantly white institutions; and bring the benefits of black labor back to black people.
Recall Laurence Fishburne's lecture in Boyz n the Hood where he tells his son, his son's friend, and those gathered around that black folks need to start owning businesses and keeping black money in black hands — just like the Koreans, Italians, and Jews. What's wrong with that, right?
However, based on (progressive) arguments in the landmark US Supreme Court Grutter case (which upheld affirmative action), a so-called "critical mass" of different racial and ethnic groups is necessary for a "better" educational experience for all. This logic dictates HBCUs offer a subpar education due to their very small (or disproportionate) racial and ethnic diversity.
Why, then, would we want to make that experience worse?
Unfortunately, logic isn't something progressive racial theorists have in abundance.
MORE: Neo-segregation on college campuses
MORE: Nearly 200 universities encourage, facilitate racial segregation
IMAGE: Shutterstock.com
Like The College Fix on Facebook / Follow us on Twitter