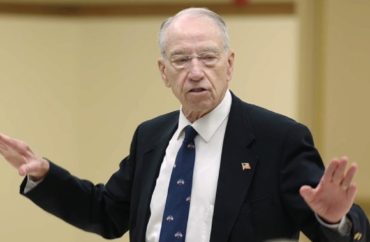 'Imperative for a full understanding of the risks to your institution and national security'
Members of Congress are once again putting pressure on colleges who choose to host Confucius Institutes, with one veteran lawmaker telling them to "request an FBI briefing" to understand the danger of the Chinese government-funded programs.
Republican Sen. Chuck Grassley of Iowa, chair of the Finance Committee and former chair of Judiciary, has been banging the drum about the institutes for nearly a year. His staff even met with the University of Iowa last year to deliver a personal warning about its own Confucius Institute, since shuttered.
In a press release last week that declares "Confucius Institutes are Fronts for Chinese Propaganda; just ask FBI," Grassley (above) said he sent a letter to the 74 colleges and school districts nationwide that host institutes.
"U.S. Government agencies, including within the Intelligence Community, assert that the Communist Chinese Government uses Confucius Institutes embedded in our academic institutions as a propaganda tool within the United States," Grassley said in the letter to each institution whose website indicates it has an "active" institute.
Scheduling a briefing with the FBI is "imperative for a full understanding of the risks to both your institution and our national security," he wrote, requesting that the schools tell him when they have "requested and received" the briefing. He'll follow up with any who don't respond by month's end.
"Enough concerns have been raised by the intelligence and academic communities that it's important for schools that are continuing to host Confucius Institutes to know the risks and make informed decisions," Taylor Foy, senior communications advisor for Grassley, told The College Fix when asked why Grassley sent the letter now.
Republican Sens. Marco Rubio of Florida, Ted Cruz of Texas and Josh Hawley of Missouri have also joined their senior colleague in putting pressure on schools to drop Confucius Institutes.
"For far too long the Communist Chinese government has attempted to infiltrate American universities through the disguise of the government-ran [sic] Confucius Institutes," Rubio said regarding Grassley's letter in a statement provided by a spokesperson. He noted he has confronted schools in Florida who still have agreements with the Chinese program.
"Sen. Cruz has long sought to counter China's malign use of CIs to conduct espionage and undermine American higher education institutions, and will continue working to protect those institutions," Cruz's office told The Fix. Hawley's office has not responded to email and phone queries.
A spokesperson for the National Association of Scholars, which has led the academic charge against Confucius Institutes, told The Fix he doesn't read anything into the timing of Grassley's letter.
"I think even though there has been all this information from the government, the FBI, ourselves and other organizations, [the college-hosted institutes] continue to stay open," Chance Layton, communications and membership coordinator, said in a phone interview.
Grassley wants the schools to "collect this information" so they "know exactly the kind of people they are dealing with," Layton said. He praised a provision signed into law by President Trump last year that prevents the Department of Defense from funding Chinese-language programs in schools with institutes, crediting it for many campus closures.
MORE: Senators pressure colleges to drop Confucius Institutes as threat to America
In a letter to 77 colleges and universities, Iowa Senator Chuck Grassley urges higher ed presidents to reconsider their support of Confucius Institutes.https://t.co/Ay7TuGy7RS https://t.co/IppIhknccM

— National Association of Scholars (@NASorg) March 12, 2020
Grassley's funding transparency bill has not moved
Grassley said his staff had learned in unclassified briefings that the institutes are "an arm of the Chinese Government and are overseen by the Office of Chinese Language International (Hanban), which is part of the Chinese Ministry of Education."
Hanban includes China's "propaganda outlets" among its member agencies, and the institutes are reportedly "funded by the United Front Work Department, a Chinese Government agency that coordinates foreign influence operations." (The letter is heavy on footnotes to its sources.)
Grassley cited a quote from a member of the Chinese government, Li Changchun, who said the institutes improve China's "soft power" and use "the excuse of teaching Chinese language" in order to look "reasonable and logical." Changchun also said they are an "important part of China's overseas propaganda set-up."
The American Association of University Professors and National Association of Scholars have "independently detailed how Confucius Institutes restrict academic freedom and promote an agenda tailored by the Chinese Government for the benefit of the Chinese Communist party," the senator wrote.
Grassley previously put pressure on American officials to explain why the institutes had flown under their radar, particularly the Department of Justice, asking why it didn't require Confucius Institute officials to register as foreign agents.
Last summer he introduced the Foreign Agents Disclosure and Registration Enhancement Act, which would enhance disclosure requirements for monetary relationships between foreign actors and domestic institutions. (While the letter says Grassley "recently reintroduced" the legislation, its record shows nothing has happened since last summer.)
"Restrictions on U.S. federal funds don't prevent schools from accepting funding from other sources, and they don't prevent schools from partnering with sources who have undisclosed foreign allegiances," Foy told The Fix, explaining the need for the bill.
MORE: U.S. finally investigating secret foreign funding of American universities
IMAGE: VICE News/YouTube
Like The College Fix on Facebook / Follow us on Twitter