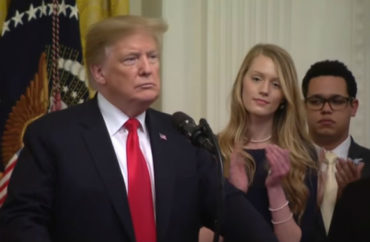 Teacher unions and public schools don't have a right to taxpayer-money
If public schools do not want to reopen this fall, then parents should be able to take their tax dollars and spend it on a private school, a charter school or on homeschooling.
They should have the financial flexibility to create the best educational environment for their children, especially as their public schools and teacher unions let them down by keeping schools physically shut.
President Donald Trump made this point last week during a press briefing on school reopening plans.
At a press briefing, the president said:
If schools do not reopen, the funding should go to parents to send their child to public, private, charter, religious, or homeschool of their choice. The key word being 'choice.' If the school is closed, the money should follow the student so the parents and families are in control of their own decisions. So we'd like the money to go to the parents of the student. This way, they can make the decision that's best for them.

We cannot indefinitely stop 50 million American children from going to school — harming their mental, physical, and emotional development. Reopening our schools is also critical to ensuring that parents can go to work and provide for their families.
He is right. Taxpayer dollars are being allocated to school systems that are not serving students. He was also right when he said in June that "access to education is the civil rights issue of our time," urging an expansion of school choice.
For example, Fairfax County Public Schools in Virginia, one of the largest public school districts in the country, will be fully online at least at the beginning of the school year. This is happening despite a mountain of evidence that school-age children rarely transmit coronavirus and that Fairfax County residents pay some of the highest property taxes in the state.
Ditto for all the students in the Los Angeles public school students who will be forced to learn online this year.
Meanwhile, many teacher unions advocate for online-only classes this fall, citing their own concerns about their members getting sick while some are also trying to use the coronavirus crisis to advocate for a laundry list of political items, such as defunding the police and charter schools.
But teacher unions don't have a right to taxpayer-dollars — that money belongs to taxpayers. If public school districts and teacher unions don't want to open back up, then it's only right that parents be given the financial means to go elsewhere.
After all, many parents could be put in a difficult situation if they are asked to go back to work but their public school is not open.
They could use some of that money to pay a teacher to homeschool their kids in so-called "pandemic pods," while others are hiring teachers to tutor their kids instead.
What matters the most is that parents, not government bureaucrats and teacher unions, make the decision.
Writing at the Foundation for Economic Education, Kerry McDonald shared this story:
Some parents are hiring tutors to augment their homeschooling experience this fall, and entrepreneurial teachers are serving that need and cashing in on the opportunity. One high school English teacher in Illinois, who asked to remain anonymous, told me that she made $49,000 a year teaching 9th grade and AP English, but several families have approached her for private tutoring and she realizes she can make more money as a private tutor, with fewer hours and more flexibility.
These developments are good. They break the oligopoly that public schools and teacher unions often have on local educational choices.
School choice empowers parents and students. After all, it's their tax dollars, not the teacher unions, that fund education.
MORE: Supreme Court rules in favor of religious liberty and school choice
IMAGE: Fox News/YouTube
Like The College Fix on Facebook / Follow us on Twitter