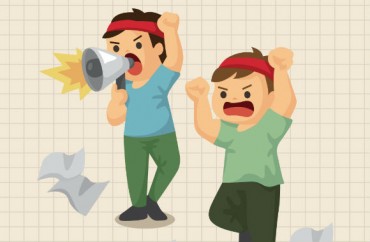 Demonstrators at the University of Arizona protested before an Arizona Board of Regents meeting on Friday, then stayed for the official gathering while three UA students addressed the board with their "outrage and […] demands."
That outrage is due to a trio of UA students facing criminal charges for actions against a pair of Border Patrol officials a few weeks ago. The BP agents were interrupted during a presentation to a campus group by one student, Denisse Moreno Melchor, who persistently yelled "Murder Patrol!" at them, as well as making racist comments towards a student who threatened to call the police.
Moreno followed the BP agents throughout the building and after their exit.
Dubbed the "Coalition for the Arizona 3," the protesters wore tape over their mouths and held placards stating "We Will Not Be Silenced." Coalition member Fernando Najera, a DACA recipient, told The Daily Wildcat that the group's main platform is to "ban Immigration and Customs Enforcement and Customs and Border Protection agents from campus."
"Along this region, Border Patrol have been terrorizing native people, terrorizing black and brown bodies. It is enough, right?" Najera asked those assembled.
At the start of the Board of Regents meeting, the Coalition remained seated for the Pledge of Allegiance.
Three students addressed the regents with concerns related to those raised by the coalition.

The protesters stood while student and ASUA Senator-elect Ana Mendoza, student Mira Patel and student Denisse Moreno Melchor spoke. Moreno Melchor was one of the students criminally charged and thus a member of the "Arizona 3."

"You have failed me as a Latina who attends a Hispanic-Serving Institute," Mendoza said to the board.

She also said she is afraid to attend class and has missed two weeks of school due to this fear. She calculated this has cost her over one thousand dollars.

Patel stated she should be worrying about class, not addressing the board, but because of the administration's actions she had to return to speak to the board for a third year. She stated the coalition's three demands: the charges against the three students be dropped, ICE and CBP be banned from campus and President Dr. Robert C. Robbins resign, should these demands not be met.

The final student to speak was Moreno Mechor [sic]. She repeated the demands.

The protesters responded to each student's speech with applause.
It's unclear if President Robbins' resignation is one of the three demands, or if his resignation should occur if the Coalition's demands (which would then number two, not three) aren't met. The Fix has asked The Daily Wildcat for clarification.
The "Arizona 3" have a group of professors in their corner; the "Professors of Color," numbering some 70 strong, have demanded the university drop all charges against Moreno Melchor, et. al. and they blame "far-right extremist media" for exacerbating the issue.
Read the Daily Wildcat article.
MORE: ASU students protest Border Patrol in solidarity with U. Arizona
MORE: VIDEO: Students confront Border Patrol speakers at U. Arizona
IMAGE: notkoo / Shutterstock.com
Like The College Fix on Facebook / Follow us on Twitter