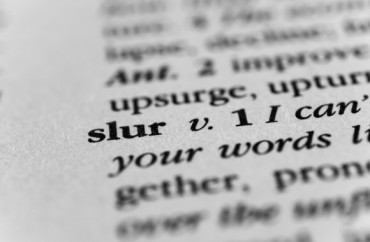 The University of Maryland Police Department responded late last month to several "hate bias incidents" — anti-black racial slurs scrawled in La Plata Hall at "multiple locations."
According to the UMPD April incident log, the graffiti was written early in the morning on April 29, but wasn't reported until eight and 10 hours later, respectively.
Another slur was reported on May 2.
UMD Resident Life also noted discovery of an "antisemitic symbol" in La Plata, The Diamondback reports.
UMD officials responded in usual fashion, denouncing the incidents and offering meetings where students "could receive support" if needed.
"Incidents such as these have the potential to hurt all of us in the community," Resident Life wrote in a letter to students. "As students living in the residence halls, each of you deserves respect and to know and feel you belong and have a rightful place in our community."
At a United Students Against Sweatshops-hosted town meeting on May 9, Resident Life Director Dennis Passarella-George told students "There is absolutely no place for hate in our residence halls or on our campus," and that they "have the right to live, learn, and work in an environment free from harassment, discrimination, hate, and bias."
MORE: UMD launches massive censorship effort after murder of black student
Town hall organizer Grace Orellana complained that despite student support services being available, "not everyone is trusting of the counseling center [because] not all counselors look like the students being affected by these incidents."
[Orellana] said that the university should provide more transparency from the beginning about incidents like these.

"It makes me feel upset, disappointed that we had to create such a fuss for this to even start to be addressed," Orellana said. "It kind of makes me question my safety here on campus."

Orellana said the university should give more training to resident assistants and students who are directly affected by hate bias incidents. Students should also receive solid support through measures like Resident Life or university-led safe group spaces and town halls after a hate bias incident occurs, she said.
Five years ago, the University of Maryland was the victim of racist graffiti but the person eventually charged with the crime was a black former employee of the school. No news outlets reported this fact; the UMPD eventually provided the information to The College Fix after several inquiries.
A few months before that, just one local news outlet reported that another black UMD ex-employee had been charged with spray-painting a swastika on campus.
MORE: In plaza dedication to killed black student, U. Maryland forgets hate crime charge was tossed
IMAGE: Shutterstock.com
Like The College Fix on Facebook / Follow us on Twitter