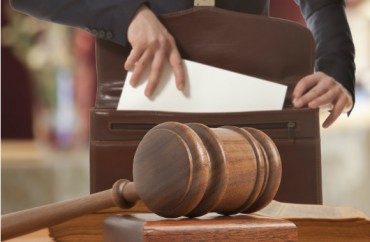 Six University of Michigan climate activists appeared in court last Friday for a pretrial hearing stemming from their sit-in at UM President Mark Schlissel's office back in March.
The hearing was to "simplify the facts of the case and discuss the evidence presented" before the scheduled October 10 trial date, according to The Michigan Daily.
On the weekend of March 16, approximately 60 activists split off from some 3,000 demonstrating around campus to occupy Schlissel's Fleming Administrative Building office. After orders by law enforcement to disperse, ten decided to stand firm and were quickly arrested.
The six who appeared in court had pleaded not guilty back in June to the charge of trespassing.
Defendants' attorney Angie Martell said it was "difficult [for her clients] to know" if they were "given adequate notice" of their arrests due to the poor audio and video quality of the evidence given to them. Martell requested "additional discovery information" for the defense.
Martell said the case rested in the University's decision to arrest students for protesting, even when the University has a long history of social and political engagement on the part of the students.

"The University of Michigan is a public university and it has a history of allowing students to address issues that are so important to our nation, and our environment is one of those," Martell said. "I don't know of any situation where people have been arrested for trespassing in Michigan when they had been students, when they paid tuition, when they had a valid reason for being there, (when) they're alumni, because they spoke out on a day of world outrage."…

University alum Hoai An Pham, a co-organizer of the Washtenaw County Climate Strike, said Friday's hearing was indicative of how the fight against climate change is often criminalized or diminished.

"It's always very frustrating to me in court to see that process unfold and understand the very strong links between prison justice and climate justice," Pham said. "We know that fighting for a future that doesn't have these oppressive systems is really important and I was reminded of that for sure (on Friday)."
UM student and climate activist Jonathan Morris said "it's really pretty sad […] that the University's position was to … have students arrested for simply protesting for a livable future."
Pham, who once told those attending an anti-Ben Shapiro teach-in that "everything good at this University exists because of student activism," had put a notice on Facebook asking people to "pack the courtroom" in support of those charged. According to the page, 73 said they were interested in attending … but only 19 showed up.
MORE: Here are some other things universities could ban to fight climate change
MORE: U. Michigan students hold 'die-in' to call for action against climate change
IMAGE: Andrey Burmakin / Shutterstock.com
Like The College Fix on Facebook / Follow us on Twitter