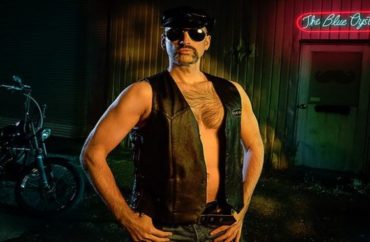 Fans of the "Fifty Shades" series may be interested in a new study out of the University of Oklahoma: "Fifty Shades of Leather and Misogyny: An Investigation of Anti-Woman Perspectives among Leathermen."
Sociology professor Meredith Worthen's research looks at how the so-called "leather/BDSM" (bondage, discipline, submission and sadomasochism) community relates to the treatment of women.
"Specifically," according to the American Association for the Advancement of Science's EurekAlert!, "[it] explore[s] leather identity as it relates to the support of laws and policies helping women, non-feminist identity, patriarchal gender norms and the stigmatization of lesbian, bisexual, transgender and queer (LBTQ) women among both hetero and non-hetero (gay, bisexual, pansexual, asexual) leathermen."
Worthen and University of Nebraska PhD candidate Trenton Haltom found a "robust relationship" between negative feelings towards females and "leatherman identity," most especially heterosexual leathermen.
The study was published, appropriately enough, in the journal Deviant Behavior.
"The leather/BDSM community is often deviantized and marginalized, so it is important to better understand its inner workings, especially because there are so many false and sometimes dangerous perspectives out there," Haltom said. "More research is needed to better cultivate a culture of consent that can encourage the appropriate emotional and psychological pre-negotiations necessary in healthy BDSM relationships that may be newly forming as a result of interest in the Fifty Shades series."
Last year, The College Fix reported on a study led by Prof. Worthen which showed transgender individuals are more politically conservative than straight men.
According to her website, Worthen is "a social justice advocate for the LGBTQ community" who "dissects multiple dimensions of prejudice in efforts to cultivate understanding, empathy, and social change." She began The Welcoming Project in 2011 which encourages businesses and other organizations to display "welcoming signs" at their establishments to let LGBTQ folks know they are, well, welcome as patrons.
The professor also started the #MeTooMeredith campaign in 2018 to give sexual assault survivors "a place to share their stories anonymously." According to the OU Daily, the allegations against now-US Supreme Court Justice Brett Kavanaugh were the catalyst behind its creation.
After an internet search came up empty, The Fix asked Worthen for comment about the sexual harassment allegations made by Tara Reade against Joe Biden.
She did not respond.
Read the EurekAlert! article and study abstract.
MORE: Porn star gives college students 'Intro to BDSM' training
MORE: Middle schoolers given 'Fifty Shades of Grey' word search
IMAGE: Big Ben in Japan / Flickr.com
Like The College Fix on Facebook / Follow us on Twitter