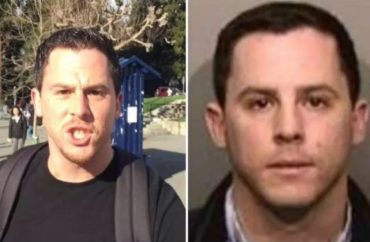 The suspect accused of punching a conservative activist in the face at UC Berkeley could face up to four years in state prison if convicted.
According to the criminal complaint that the Alameda County District Attorney's Office filed on Tuesday, Zachary Greenberg faces one count of felony assault, one count of felony battery, one count of felony criminal threats, and one count of misdemeanor vandalism, according to a copy of the complaint obtained by The College Fix.
Teresa Drenick with the District Attorney's office told The College Fix via email that while it is too soon in the process to discuss or predict possible sentencing, count one — that being felony assault — "does carry a maximum penalty of four years in state prison."
Greenberg, 28, is expected to appear for his arraignment tomorrow, March 6, at the Wiley Manuel Court House in Oakland.
Roughly 60 seconds of video obtained by The College Fix shows Greenberg on Feb. 19 calling the victim, Hayden Williams, a "racist motherfucker" and tells him he would "shoot his ass." They tussled for a bit, with Williams appearing to try to defend himself. Greenberg then punched Williams in the face with a haymaker and calls him "fucking cunt" as he walks away, the video shows.
Williams had been tabling for Turning Point USA. Signs displayed on the table read "Hate crime hoaxes hurt real victims," and another read, "This is MAGA Country."
Greenberg is not a UC Berkeley student. Williams is also not a UC Berkeley student. He is a field representative for the Virginia-based Leadership Institute, which trains young conservatives and publishes Campus Reform. But Williams was at Berkeley that day at the behest of Turning Point USA, another conservative campus activism group, to help recruit new members.
"We are pleased that the good investigative work of our police department has led to the filing of these charges," Dan Mogoluf, assistant vice chancellor at UC-Berkeley, told Fox News. "The university believes that those who violate the free-speech rights of others must be held accountable and face the appropriate consequences."
While Greenberg faces serious charges, it's not uncommon for defendants to make plea deals that help them receive minimum or no jail time.
Meanwhile, in the wake of this highly publicized assault, President Donald Trump on Saturday called Williams up on stage during his CPAC speech and proclaimed "he took a punch for all of us."
The president then announced plans to issue an executive order to deny federal research funds to colleges and universities that do not support free speech.
MORE: No jail time for student who stole peer's MAGA hat in viral video
MORE: UC Berkeley rips critics in newly released statement
Like The College Fix on Facebook / Follow us on Twitter