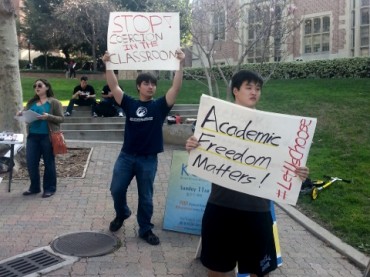 LOS ANGELES – "Foster diversity – don't force divides!"
That was one of several mantras 19-year-old UCLA sophomore Olivia McCoy called out as she stood atop a concrete platform in the center of campus Wednesday afternoon.
Carrying a sign that said "#LetUsChoose" in bold, blue letters, the political science major had a few other expressions she'd throw out as she demonstrated along the campus' free speech corridor, where thousands of students traverse between classes.
"Support academic freedom," McCoy declared with confidence to passersby. "Let us choose."
McCoy was joined by several other members of the Bruin Republicans as they shared their message with peers that the effort among some faculty to mandate students take some sort of diversity course as a graduation requirement is not supported by all students.
"We are saying let us choose the classes we are going to take," McCoy said. "It's our money, it's our choice." 
The diversity requirement is a hotly contested and controversial issue on campus.
Faculty within the College of Letters and Science have twice voted on whether to create such a mandate in recent years, but the votes failed to gain a majority of support. Then last fall – after some students demonstrated in support of the effort – it finally passed with a narrow margin.
Many expected the new mandate to be rubberstamped into approval, but a group of 61 professors late last year petitioned to have all educators on campus vote on it.
A dueling petition has attempted to block that request, but the issue may be voted on campuswide in late February.
With that, the Bruin Republicans said they wanted to send a message that not all students support the idea.
"We are the first group on campus to come out and take a stand against this," said biology major William Chakar, 21, past chair of the group. "Diversity is not a bad thing. As college Republicans, we are one of the most diverse groups on campus. But these classes go against diversity and try to instill a viewpoint."
Students gathered for the demonstration held signs with slogans such as "academic freedom matters" and "stop coercion in the classroom." They circulated a petition and collected some signatures. Several protesters handed out fliers to students walking by which stated "Say NO to the diversity requirement – #LetUsChoose."
"While we do support diversity, we don't think it should be forced," said sophomore Alex Rhim, 19, a political science major. "They can take these classes anyway."
The flier handed to students stated in part that the diversity requirement "institutionalizes racial, ethnic and religious divides within the community. … The diversity requirement forces students to take a class where you could be subject to ridicule for your religious beliefs, ethnic background or sexual orientation. The diversity requirement requires more of your tutition dollars to be spent irresponsibly."
Several other conservative campus groups set up shop to add their support to the protest, including TurningPoint USA and the California Freedom Project, the latter of which supports free market causes.
"This is our money, this is our tuition," said freshman Drake Everlove, 18, of the freedom project. "Personally I am in a lot of debt and a lot of other students are in debt. I am already feeling it in my bank account and (UC leader) Janet Napolitano recently approved a tuition increase. It's just more and more they are piling on."
Reaction to the protest was mixed. While the Bruin Republicans did gain some support, there were several naysayers as well. The demonstrators got a few sideways glances. One student called out "do the research before you sign it." Other students threw the fliers away in the trash.
Demonstrator Andrea Swanson, 20, even had a physical altercation with a female student who had taken one of the fliers.
"She said, 'Well we are forced to take white classes,' and crumpled it up and threw it at me," Swanson said, adding she was not too concerned about the incident. "She was aiming for my face but I sort of moved."
"We are trying to just get people to be informed," Swanson added. "It's not a racial issue."
As part of their effort, members of the Bruin Republicans also emailed hundreds of faculty members outside the College of Letters and Science to voice their concerns. Professors from the medical, dental and engineering schools, for example.
Feedback from those emails have also been mixed, with some faculty supportive and others not so much, Bruin Republican members said.
But, they added they are glad to be taking a stand.
"When you are on a college campus, you want to feel like you are making a difference," McCoy said. "We are taking traditional liberal tactics and using them for conservative beliefs."
Jennifer Kabbany is editor of The College Fix (@JenniferKabbany)
Like The College Fix on Facebook / Follow us on Twitter
IMAGES: Jennifer Kabbany for The College Fix
Like The College Fix on Facebook / Follow us on Twitter