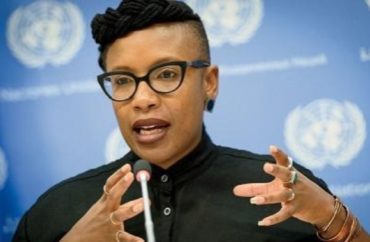 'Every action that is taken in relation to ecological crisis […] has racial justice implications'
A law professor at UCLA believes "hi-tech capitalist solutions" for the alleged climate-change crisis are "perpetuating racism."
Tendayi Achiume (pictured), who's finishing up her tenure as United Nations Special Rapporteur on Contemporary Forms of Racism, Racial Discrimination, Xenophobia and Related Intolerance, told The Guardian that "green solutions […] are being implemented at the expense of racially and ethnically marginalised groups and Indigenous peoples."
These include electric vehicles, renewable energy and "the rewilding of vast tracts of land."
The Zambia native said "You can't think that you solve the climate crisis and then attend to racial justice or racial  discrimination. What you have to realise is that every action that is taken in relation to ecological crisis – environmental, climate and otherwise – has racial justice implications, and so every action becomes a site of undoing racial subordination."
This may not sit well with the very pro-green Biden administration which invited Achiume last year to "lead an assessment 'racial justice and equality'" in the United States. Part of that assessment was recommending an "international investigation" into racist police conduct as the "domestic regime" has proven unable to protect black people.
MORE: Professor: Climate change is 'white colonization of the atmosphere'
In her final report to the UN general assembly in October, [Achiume] tackled the relationship between racism and the climate and ecological crises. It was, she said, an issue that had been raised from the very beginning of her tenure as one of the most important global factors in racial injustice.

"The global ecological crisis is simultaneously a racial justice crisis," she wrote in the report. "The devastating effects of ecological crisis are disproportionately borne by racially, ethnically and nationally marginalised groups … Across nations, these groups overwhelmingly comprise the residents of the areas hardest hit by pollution, biodiversity loss and climate change."

This climate justice-oriented perspective demands antiracist solutions, Achiume said. But the very same structures that created racial inequalities were now being relied upon to solve the environmental crisis, leading to a "doubling down on racial inequality and injustice".

The rush towards sustainable alternatives to fossil fuels, including electric cars and renewable energy, was creating what Achiume described as "green sacrifice zones", where already marginalised groups were exposed to environmental harms from the extraction of the very minerals needed for green tech.
Achiume added that relying on "the global capitalist framework" for climate solutions doesn't make sense as it is responsible for the (climate) crisis and "racial injustices" in the first place. "We're basically again trying to profit our way out of a crisis that is defined by an approach that thinks that profiting out of crisis is sustainable," she said.
Achiume also has indicated she opposes secure national borders and that slavery reparations are "essential to the fulfillment of human rights" and the "inherent dignity of all."
MORE: UCLA sued for hiding professor's advice to Biden administration on racism and police
IMAGE: UCLA Law screencap
Like The College Fix on Facebook / Follow us on Twitter