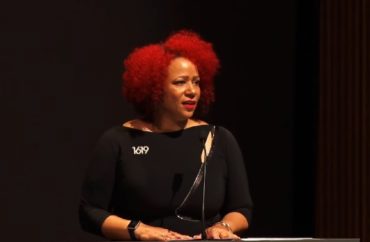 A week after journalist Nikole Hannah-Jones spurned its tenured job offer, the University of North Carolina at Chapel Hill tells The College Fix it will attempt to fill her vacant position this fall.
"We have two open Knight Chairs to fill," Hussman School of Journalism and Media spokesperson Kyle York told The Fix in an email. "We are building search committees and plan to begin searching in the fall."
Hannah-Jones was offered a prestigious Knight Chair at UNC, a position endowed by the Knight Foundation to teach and practice journalism. Even though she eventually turned the school down after they reversed course and offered her a tenured position, UNC will keep the Knight endowment.
"Knight Chairs are endowed in perpetuity," foundation spokesman Kenny Ma told The College Fix. "Knight endows chairs so universities can hire people who are distinguished in the field of journalism to bring newsroom experience into the classroom."
Hannah-Jones' saga has played out very publicly after the appointment to UNC was announced in May.
At first, the school offered Hannah-Jones, who has no academic background, a five-year contract at a salary of $180,000 per year, with the option for tenure when the contract was up. Her salary would have been paid through a mix of state funding through UNC and the Knight grant.
But Hannah-Jones and her supporters felt disrespected that she was not offered tenure, which virtually guarantees lifetime job protection. She cited "viewpoint discrimination" and "race and sex discrimination" for the decision to only offer her a five-year contract.
Hannah-Jones has been criticized for factual inaccuracies in the 1619 Project, a series of articles she oversaw for the New York Times Magazine. Eventually, the New York Times's own fact-checker corrected the central claim of the project, which argued the central aim of America's founding was to retain the practice of slavery.
Newspaper owner Walter Hussman, for whom the UNC journalism school is named, said Hannah-Jones's reporting has positioned her as an advocate and "celebrity," and that hiring Hannah-Jones would threaten the "core values" of his alma mater.
Eventually, the UNC Board of Trustees held a vote to grant Hannah-Jones tenure. Before the vote, there were skirmishes between police and student protesters backing her.
Hannah-Jones, who has won a Pulitzer Prize and recipient of the MacArthur Fellowship "Genius Grant," said her "mistreatment" was the result of her being a black woman.
"It's not my job to heal the University of North Carolina," she told "CBS This Morning" on July 6 as she announced she would instead become the inaugural Knight Chair at Howard University.
"That's the job of the people in power who created the situation in the first place."
The same day, over 30 UNC faculty members authored a blog post calling the treatment of Hannah-Jones racist.
"The appalling treatment of one of our nation's most-decorated journalists by her own alma mater was humiliating, inappropriate, and unjust," the post read. "We will be frank: It was racist."
Foundation money will go to Howard University
Knight will now be sending $5 million to Howard, a historically black college that has also recruited prominent African-American author Ta-Nehisi Coates to join the faculty.
"In our view, Howard University is the right university at the right moment to receive an endowment to establish a chair in Race and Journalism," Knight Foundation President Alberto Ibargüen said after Hannah-Jones announced her decision to decline the offer from UNC Chapel Hill.
"Howard has a tradition of academic excellence and is known for the development of American leaders," Ibargüen said. "At a time when digital, television, radio and newspaper newsrooms are scrambling to hire journalists who reflect the communities they cover, Howard is ideally positioned to train the next generation of Black journalists."
When UNC initially appointed Hannah-Jones to the position, Ibargüen praised the selection.
"It is not our place to tell UNC or UNC/Hussman whom they should appoint or give tenure to," he said. "It is, however, clear to us that Hannah-Jones is eminently qualified for the appointment."
On June 30, Ibargüen amended his statement to support the school's decision to give Hannah-Jones tenure based on her "professional achievements."
The Knight Foundation currently endows 26 chairs at 23 universities. The only two open positions are the Race and Investigative Journalism chair and the Journalism and Digital Media Economics at UNC Chapel Hill.
MORE: Nikole Hannah-Jones declines UNC tenure offer, chooses to go to Howard instead
IMAGE: NY Times Events/YouTube
Like The College Fix on Facebook / Follow us on Twitter