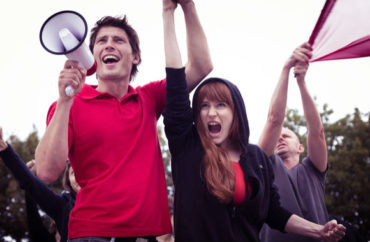 'We come to you, afraid for our lives,' graduate student group writes to white faculty members
A graduate student organization at the University of North Carolina has called on white tenured faculty members to go on strike to bring attention to the group's demands, including defunding the police, remote learning in the fall, and protecting low-paid workers on campus.
The Anti-Racist Graduate Worker Collective, a group at UNC's flagship Chapel Hill campus, released an open letter on July 20 urging support for its demands that it laid out in a separate petition originally published on June 12. That petition made no mention of white faculty striking.
But the group's open letter in the Daily Tar Heel campus newspaper did. In a paragraph bolded by the news outlet, the activists state:
White tenured faculty members, we ask you to refuse to teach this fall unless the semester is remote by default, and unless the administration commits to move forward without furloughs or cuts to graduate students' and low-paid workers' pay and benefits. We are specifically calling those with the most privilege to take the first step in withholding labor.
The coalition describes itself on its website as a collective "united in our shared goals of dismantling white supremacy, heterosexism, cissexism, misogyny, classism, ableism, and settler colonialism at UNC."
The anti-racist collective did not respond to multiple requests from The College Fix for comment on the decision to ask only white faculty members to strike, and if any faculty members had agreed to strike in support of the groups' demands.
The petition is about a month old, so the group may have been trying to up the ante with its call to white educators on campus.
MORE: Evergreen State's student newspaper includes no-whites allowed section
The demands came in response to the university's "Roadmap for the Fall" reopening plan and amidst fears of returning to campus.
In the open letter, the group claimed it was asking white faculty for help because they are fearful.
"We come to you, afraid for our lives, and motivated by the relationships we have cultivated with campus workers, graduate workers and undergraduates, whose fears we are also acting upon. We are asking you to act, too," the letter stated.
The letter, with its accompanying five-page petition, demands that UNC Chapel Hill not hold in-person classes for the fall 2020 semester.
A spokesperson for the University of North Carolina-Chapel Hill did not respond to multiple requests for comment.
According to the letter, white faculty have a responsibility to strike.
"Black, Indigenous and all people of color have been asked to shoulder the burden of 'diversity and inclusion' work in departments" so this is "one way for white tenured faculty to step away from protecting their power through silence and inaction." They should "refuse to implement a deadly reopening plan."
The accompanying petition demands that "no layoffs or furloughs of staff be made, and that during remote instruction all workers retain full pay, benefits, and health insurance."
The petition also suggests that "UNC provides students stipends or other necessary resources for internet services" and that "UNC pays for online pedagogy training and longer course preparation."
The group argues in its petition that the pay and benefits of low-paid workers can come through a series of cuts, including defunding the police department and by forcing "administrators, coaches and tenured faculty members" to "take maximum pay cuts if necessary."
This petition has been signed by 450 UNC Chapel Hill students and faculty at the university.
The group also worked with the Graduate and Professional Student Federation on campus, which represents all 11,000 graduate and professional students at UNC, to advocate for the demands.
MORE: Black faculty, administrators outraged at hiring of white woman as provost
IMAGE: Photographee.eu/Shutterstock
Like The College Fix on Facebook / Follow us on Twitter