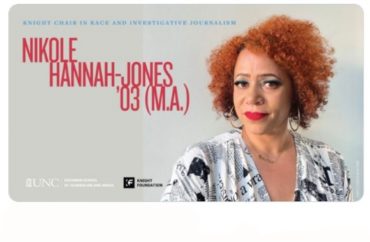 The University of North Carolina-Chapel Hill has hired the mastermind behind the controversial New York Times' "1619 Project."
Nikole Hannah-Jones is slated to become a race and investigative journalism professor, the university announced Monday.
She began her career as an education reporter in the Raleigh and Chapel Hill area "where her coverage of school equity and the racial achievement gap in the Durham public school system led to school board action to improve education access and quality," the university noted.
More recently she won a Pulitzer Prize as creator of the 1619 Project even though it was roundly criticized by many scholars and the New York Times had to issue a correction over it because it was not historically accurate.
She also said she never made the assertion in her piece that "1776 was not the founding of the country." But there were receipts.
More recently, in February, she doxxed a Washington Free Beacon reporter, including his cellphone number in a tweet in apparent violation of Twitter's terms of service. The tweet remained online for almost two full days, whereupon Hannah-Jones subsequently "wiped her entire Twitter history."
MORE: New book meticulously debunks NYT's 1619 Project
IMAGE: Twitter screenshot
Like The College Fix on Facebook / Follow us on Twitter