House education committee 'will continue to closely monitor'
Civil liberties and Greek-letter organizations are pressing Congress to protect college students against sanctions for simply belonging to single-sex organizations, perhaps through reauthorization of the Higher Education Act.
Congressional education leaders aren't committing to anything, even after recently hearing about punitive actions taken against fraternity and sorority members in several universities, both public and private.
"Committee members appreciated hearing from witnesses" at last month's House Education and Workforce Committee hearing on campus threats to the First Amendment, Marty Boughton, spokesperson for Chair Virginia Foxx of North Carolina, told The College Fix.
Boughton did not answer whether Foxx (below) believes Congress will take action to protect freedom of association on campus – through reauthorization of the higher education law or a must-pass bill – and whether students at private institutions will be covered.
"The committee will continue to closely monitor how post secondary institutions are upholding and protecting students' rights in the classroom and on campus," the spokesperson added.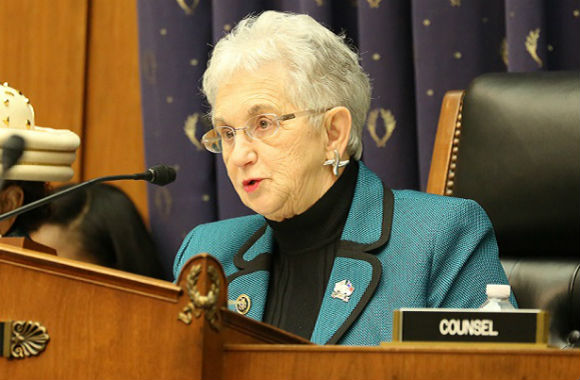 Harvard portrays 'limitations on basic freedoms as routine or even desirable'
The highest-profile attacks on students for their associations have come from Harvard University. Its blacklists against members of single-sex organizations have gutted these groups, particularly those for women, none of which had been recognized by Harvard for three decades.
"Harvard is particularly egregious" for the "academic penalties" it places on such students, Joe Cohn, legislative and policy director at the Foundation for Individual Rights in Education, told The Fix in a phone interview.
The Ivy League school bans them from serving in leadership roles in other student clubs and as captains for varsity athletic teams, and refuses to write them letters of recommendation for prestigious fellowships.
Cohn's group has fought Harvard's push to marginalize single-sex groups since the university announced the proposed sanctions more than two years ago.
MORE: Harvard wins its war on women
There's symbolic importance in abolishing restrictions on freedom of association at Harvard, Cohn said. It is where "so many of our future leaders are getting their education," and the current policy portrays "limitations on basic freedoms as routine or even desirable."
It has been "overwhelming" for Harvard women to fight back against the administration's threats to sanction them, Dani Weatherford, executive director of the National Panhellenic Conference, told The Fix in a phone interview. Considering the severity of the repercussions that Harvard was discussing, the Harvard chapters were a high priority for the NPC, she said.
The North-American Interfraternity Council, which represents men's organizations, responded to Fix queries but did not make available an official for an interview.
'Chilling effect for sexual assault victims' at University of Virginia
"Every one of the women's sororities or final clubs that previously existed on Harvard's campus closed or became co-ed against their will," the Fraternal Government Relations Coalition, which includes both the NPC and NIC, told the education committee in testimony last month. The campus has been "traditionally unfriendly to women," and it's even worse now for "the hundreds of Harvard women that were thriving" in their own organizations.
But Harvard is far from alone among prestigious schools in stigmatizing and marginalizing students who participate in Greek life, subjecting them to rules that "no other campus organization has to follow," the coalition said.
The University of Michigan, for example, bars first-semester freshman from joining a fraternity or sorority, a restriction not applied to any other club. This may even harm these students' academic development, the coalition told lawmakers: "Studies show students who join single-sex organizations in their first semester have greater gains in growth, learning and development."
MORE: Harvard dean says taking away women's spaces is 'inclusive'
A group of Yale students is "actively challenging our single-sex status via coordinated interference with recruitment activities," even though it's simple to start coed groups at Yale and forcing Greek organizations to go coed "solves no identifiable problem on campus," the coalition testified.
Ohio State University imposed guilt by association last fall by suspending all 37 fraternities for two months, based on the "alleged actions of members in a few groups." Students who were "not facing any charges of wrongdoing" were treated the same as those under investigation, which undermines students' willingness to self-report the wrongdoing of a few.
The University of Virginia did the same in response to the since-discredited Rolling Stone article about an alleged gang rape. It suspended "chapter meetings, philanthropy events and social events" even for women's groups, though only a few men from one organization were accused.
"This example is especially concerning given the chilling effect for sexual assault victims that may be more hesitant to come forward for fear of getting their own chapter or other women's organization suspended in the future," the coalition testified.
Cohn said FIRE wants Congress to approve legislation that prevents institutions that receive federal funding, both public and private, "from putting academic penalties on students based on the lawful organizations they join."
The Fraternal Government Relations Coalition also wants a legislative fix, using the higher education reauthorization as a vehicle. "[W]e urge you to include strong language protecting the freedom of association rights for students at any institution that accepts federal funding," it testified.
Getting "some protections added" for Greek life members via reauthorization has been a main priority for the NPC, Weatherford said. It's meeting with House and Senate members of both parties.
MORE: Free speech on campus has been weaponized, Congress told
IMAGES: Syda Productions/Shutterstock, Rep. Virginia Foxx
Like The College Fix on Facebook / Follow us on Twitter