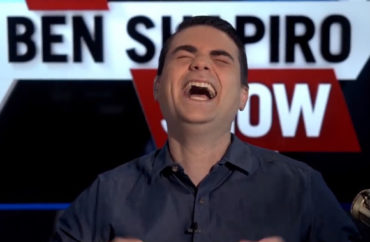 'They hadn't made us do that for any other events'
Less than a day after a student group protested having to answer vague "reflective questions" in order to host a conservative pundit, Loyola Marymount University has backed down.
The Catholic university said it would not stand in the way of Ben Shapiro's upcoming visit to the Los Angeles campus, now scheduled for April 3.
But the administration has yet to explain to The College Fix how it determined that Shapiro was a "notable" speaker whose proposed visit triggered an additional review, and the structure of that review.
It was "obvious" the reflective questions were given to the Young Americans for Freedom chapter solely because Shapiro was its invited guest, Adam Duarte, the chair of the group, told The Fix in a Facebook message. "They hadn't made us do that for any other events."
The reflective-question protocol violates LMU's own written policy if it's used as a requirement for hosting a speaker, the Foundation for Individual Rights in Education told The Fix.
The administration rescinded the reflective questions shortly after media coverage of the request, including by Shapiro's own Daily Wire, Young America's Foundation spokesperson Spencer Brown told The Fix in an email. Such attention often causes schools to drop their "previously stringent regulations."
In a carefully worded statement, the administration said the review applied to Shapiro "does not predetermine decisions" about who can speak on campus. But the statement did not answer whether the university indeed grants itself unfettered discretion to reject speakers based on the answers to reflective questions.
Must explain how they'll prevent a 'negative' community impact
Brown's organization, the parent to Young Americans for Freedom chapters, blasted the private university Tuesday for waiting a "whopping" six weeks to give its LMU chapter an answer on Shapiro.
LMU's answer opened a new round of uncertainty, owing to Shapiro's "notable" status. Administrators ordered the club to review its "Guiding Principles for Student Activities & Programming," and submit responses to the included reflective questions, before it could book a venue, Brown wrote.
The reflective questions allude to the university's Jesuit values, asking student groups how they'll ensure "the content of the program uplifts the worth and dignity of individuals?"
The university wants to know how they'll prevent the occurrence of "elements of this program that may not respect, or could be perceived to not respect all cultures," as well as a "negative" campus and community impact.
Event planners must explain how "multiple or differing points of view" will be represented, and how the program offers "well-balanced educational content."
MORE: Nearly 200 pro-life posters torn down at LMU
Erin Bossen, senior director of public and media relations, did not respond to calls or emails from The Fix Tuesday and Wednesday, asking why Shapiro was considered a "notable" speaker and whether the questions had been imposed on left-leaning events.
It's one thing for the university to ask the group hosting the event questions about it, but another thing if the school is "requiring groups to answer questions before speaking events take place," Laura Beltz, senior program officer for policy reform at FIRE, told The Fix in an email.
"Though a private institution, Loyola Marymount clearly promises its students" freedom of speech and expression in its Freedom of Expression Policy, Beltz wrote.
The policy states that students will run into points of views they believe are "wrong or offensive," but that they have a right to present "contrary or unpopular positions" to fuel "intellectual exploration, debate and the pursuit of truth and justice."
Just a 'student developmental exercise designed to encourage thoughtful dialogue'
YAF sees schools put up barriers to block conservative speakers "all the time," Brown told The Fix when asked whether any campus chapter had previously faced a protocol like LMU's reflective questions.
These barriers "take many different forms" but they all are meant to stifle conservative voices on campus, Brown said.
"It seems unlikely" that LMU held leftist speakers "to this same level of scrutiny" with left-leaning events, Brown wrote in the YAF post. He cited events on learning how to become "an advocate for climate action" and a New York Times opinion contributor speaking on "blackness and identity."
The administration gave a statement to The Daily Wire late Tuesday afternoon, hours after its report on the reflective questions. It has not been posted on the university's social media channels or newsroom.
It said the reflective questions were a "student developmental exercise designed to encourage thoughtful dialogue and assist with event planning," but this process "does not predetermine decisions nor diminish our support for speakers across a broad range of personal and political views." The statement mentioned conservative firebrand Ann Coulter and George W. Bush adviser Karl Rove as past speakers.
It does not offer any insight into how administrators respond to the answers submitted by student groups in response to reflective questions. The statement simply clarified that it approved Shapiro's visit in the previous academic year, and "reaffirmed that decision for this spring and communicated that approval" to the student group earlier Tuesday.
This is not the first time a Shapiro visit has faced hurdles from Jesuit universities. In 2016, DePaul University banned Shapiro's speech and campus security threatened to arrest him if he tried to enter the lecture hall.
Last fall, Gonzaga University banned Shapiro because his visit might endanger "vulnerable members of our community," thus "violating the "core of our mission based on the teachings of Christ Jesus."
MORE: DePaul bans Ben Shapiro
MORE: Gonzaga cites its faith to block Jewish speaker
IMAGE: The Daily Wire/YouTube
Like The College Fix on Facebook / Follow us on Twitter