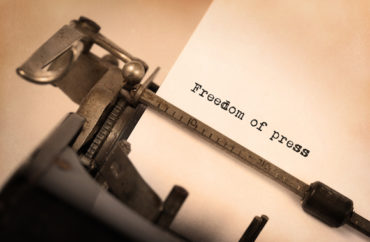 Attorney calls it 'unprecedented intrusion on news reporting'
A university is suing a journalist to prevent him from publishing disciplinary records it emailed to him last year, even though the journalist obtained them legally while working as a student reporter at the school.
The journalist, Alex Nemec, was a student reporter for the University of Wisconsin Oshkosh's student newspaper The Advance-Titan in early 2017 when he "filed an open records request with the university" seeking the "disciplinary records and emails" of business school professor Willis Hagen III, who was allegedly removed from teaching classes.
"Hagen sued the university and the Board of Regents for the University of Wisconsin System to block their release. The judge ordered the records released but with some material redacted. And that decision was upheld on appeal," The Milwaukee Journal Sentinel reports.
Yet when the university finally sent Nemec the records, they accidentally sent him the unredacted copies. Now Wisconsin Attorney General Brad Schimel "is asking that the court force Nemec to destroy the records and bar him from sharing or publishing any information that had been mistakenly released. In a separate filing, Hagen is asking the court to require Nemec to 'identify all persons and entities to whom he disclosed the confidential information'."
From the report:
"If Nemec is not directed to destroy the unredacted records and to agree not to publicize their contents, irreparable harm will result, not only for Hagen, but for others whose names are mentioned," Schimel wrote.

Nemec's attorney, Christa Westerberg, said Nemec already deleted the documents. And she called the attempts to bar his use or sharing of the information "unconstitutional as prior restraint on speech" and "an unprecedented intrusion on news reporting and private lives."

"There is no question that Nemec legally obtained the information," and the decision about how to use that information is a matter of "editorial control and judgment," she said.
Nemec is currently a reporter for The Oconomowoc Enterprise.
MORE: Harvard forced to publish confidential documents in discrimination lawsuit 
IMAGE: MyImages – Micha / Shutterstock.com
Like The College Fix on Facebook / Follow us on Twitter