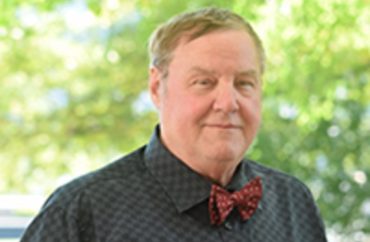 UPDATED
Appears to violate president's own promises from two years ago
Gary Shank used the n-word three times in 50 seconds in his educational psychology class simply to use the slur "in a pedagogical sense." Duquesne University put the tenured professor on paid leave and under investigation for the incident last month.
His dean Gretchen Generett foreordained the results of the investigation at the time, equating the use of the n-word, in any context, with a "hostile learning environment." His faculty page was removed within four days of the incident.
The Catholic university in Pittsburgh has now fired Shank (above) for "serious misconduct," while allowing him to appeal the dismissal, according to a termination letter dated Wednesday.
Provost David Dausey told Shank that he agreed with Generett's recommendations in her report. Media relations declined to provide The College Fix a copy of that report, calling it a "personnel matter."
The administration "takes seriously Dr. Shank's in-class conduct on September 9, 2020, which included his repeated use of a racial slur," the statement reads. "Duquesne University is deeply committed to providing a campus and learning experience that is respectful, safe and inclusive for all members of the Duquesne community."
MORE: Shank put on leave, under investigation for pedagogical n-word
Duquesne's treatment of Shank already provoked the Foundation for Individual Rights in Education to challenge its accreditation with the Department of Education.
In a Friday letter to Assistant Secretary Robert King in the Office of Postsecondary Education, FIRE said the university made "substantial misrepresentations" about its purported protection of freedom of expression, violating the terms of its accreditation with the Middle States Commission on Higher Education.
Shank has "relied on Duquesne's promises of free expression and academic freedom throughout his 23-year teaching career" there, yet it was firing him for using "a racial slur in a pedagogically-relevant context while teaching," FIRE said.
MSCHE requires that an accredited institution "possesses and demonstrates" its "commitment" to freedom of expression. Duquesne must "honor its contracts and commitments" and "adhere to its policies," internal or external, across "all activities."
FIRE also cited the accreditation provision that Duquesne "possesses and demonstrates … the avoidance of conflict of interest or the appearance of such conflict in all activities and among all constituents." It asked King to initiate an investigation of the university "to determine whether monetary penalties or other measures are appropriate."
BREAKING: Duquesne University has fired professor Gary Shank.

Shank was on leave after controversy over his utterance of a racial slur in class while discussing why the word is inappropriate.

The firing violates Duquesne's academic freedom promises.

@duqesu #academicfreedom

— FIRE (@TheFIREorg) October 7, 2020
MORE: Feds warn UCLA about disciplining prof who read N-word from MLK letter
The university's Faculty Handbook makes no mention of off-limit words or phrases. "Essential" to Duquesne's purpose "is the free and unhampered pursuit and communication of truth and knowledge," including through "certain freedoms" granted to faculty in teaching and other areas.
The only listed restriction on faculty freedoms when they "persistently intrude unsubstantiated opinion or material with no relevance to the subject being taught." The only viewpoint-related restriction in its Student Handbook is "requirements for the maintenance of order."
FIRE also pointed to university statements that call its "mix of viewpoints and perspectives" essential to the university experience and praise diversity "in all of its forms."
Perhaps the most serious problem for Duquesne is that its president is on the record implying that its private promises are "tantamount to First Amendment guarantees," FIRE said.
Ken Gormley (below) defended Duquesne's decision to host a First Amendment conference in 2018 that included conservative activist James O'Keefe, known for his video stings, Pittsburgh City Paper reported then:
While we may not always agree on the issues of the day, one of the pillars of the First Amendment is that we all have the right to express our views. This conference continues the University's commitment to civil discourse and discussing complex and challenging issues in a respectful manner.
MORE: Activists demand college end academic freedom to stop n-word

In a blog post Wednesday, FIRE said the university never responded to its Sept. 16 letter warning President Gormley that Duquesne's promises about freedom of expression and faculty rights are "legally binding." That letter cited the Department of Education's new investigation of Fordham University for punishing a Chinese immigrant student for his Instagram post commemorating the Tiananmen Square massacre.
UCLA is also facing civil penalties and loss of eligibility for federal funding because it punished a lecturer for reading Martin Luther King Jr.'s "Letter from a Birmingham Jail" without removing the racial slurs King used, FIRE said.
"Duquesne has already gone farther than UCLA," the civil liberties group continued:
If the matter is brought to the attention of the Department of Education, Duquesne will expose itself to a protracted investigation, a loss of access to federal grant funding, and liability to the Department for up to $58,328 per violation. Duquesne should be confident that the Department of Education will take notice of its wanton disregard for the academic freedom rights of its faculty if it persists in its current trajectory.
The university cannot get around the terms of its accreditation by dubbing Shank's classroom behavior "discriminatory conduct or harassment," the letter continued: It does not have legal grounds to say he caused "hostile environment harassment," which must not stifle "the breathing room afforded to academic freedom in order to avoid chilling pedagogically-relevant discussion."
Duquesne's written policies protect "the rights of faculty to choose whether and how to approach difficult subjects," but its actions don't, a FIRE spokesperson told The Fix: "Duquesne students and faculty will rationally choose to say nothing rather than say something that others might find controversial, as their university won't bother to defend their rights."
The Fix subsequently asked Duquesne what other words or phrases faculty are not allowed to say, whether they're put on notice of such verboten language, whether it matters that Shank "apologized repeatedly" for his action, how its action comports with the terms of its accreditation, and whether it's concerned that the Department of Education could open a similar investigation against it.
Media relations did not answer those questions late Wednesday.
"Our commitment to academic freedom and expression is reflected in our robust process, as outlined in our faculty handbook," the new statement said. Shank's termination letter mentions that "the grievance process is available to the professor, and that process involves faculty from every school at the University. We do not take such matters lightly."
UPDATE: Media relations did not answer subsequent Fix questions but provided a new statement in response. It has been added.
MORE: Internal revolt at USC for punishing prof who used word resembling n-word
IMAGES: Duquesne University
Like The College Fix on Facebook / Follow us on Twitter