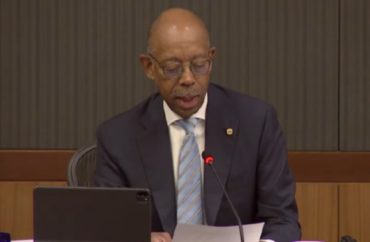 Latest university official to declare institutional support for abortion
The University of California system will ensure students can abort their babies, even if Roe v. Wade is reversed this month, President Michael Drake announced at a recent Board of Regents meeting.
Yet a month after making those comments, the UC system won't explain what specifically Drake (pictured) meant by that. California already has permissive abortion laws and all four-year public universities must begin dispensing chemical abortion drugs in January 2023. Campus health plans also cover abortions at external facilities. Hospitals connected to the university system also commit abortions.
"I'd like to begin this morning by acknowledging an issue that's on the minds of many of us and that is the leaked draft supreme court decision in Dobbs v. Jackson Women's Health Organization," Drake said at the May 18 meeting. "The outcome of this case could have significant impact on the rights and health of pregnant people throughout the nation."
His comments came two weeks after a leaked opinion from Justice Samuel Alito appeared to show the Supreme Court ready to reversed the 1973 court decision that legalized abortion in all 50 states.
He said the UC system is "actively reviewing the potential impacts on our community and operations" which includes "patient care at our hospitals" as well as "research, teaching and public service missions."
He called this a "significant" and "frightening moment in history."
He said further:
I want to state unequivocally that we at the University of California believe that all people should have access to the full range of affordable and convenient healthcare of their choosing, including reproductive health services.

We believe in the right to privacy. We will do all we can to ensure that these basic rights are preserved here in California. I also want to reassure our students that their access to comprehensive reproductive health services will continue at our campuses student health centers, and we will also maintain our longstanding referral relationships with community facilities for abortion services when requested by students.
The College Fix contacted the public affairs team for the president twice in the past two weeks to ask for clarification on his comments and what current abortion services are provided but did not receive a response.
The UC system is not the only one to promise to fight for abortion if Roe is reversed.
University of Michigan's president Mary Sue Coleman promised that the system would advocate for abortion.
The university appointed abortionist Lisa Harris, a professor, to a new task force to study ways to help women abort their babies. Harris is also a medical director with Planned Parenthood.
MORE: Pitt asked NIH for public relations help with aborted fetal tissue
IMAGE: University of California Board of Regents/YouTube
Like The College Fix on Facebook / Follow us on Twitter