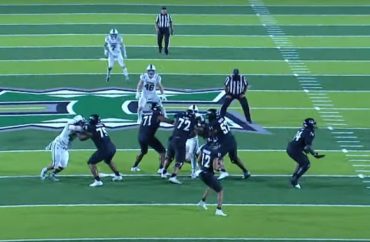 Governor cited ICU patients as justification
Only 1,000 lucky fans were allowed to watch the University of Hawaii Rainbow Warriors defeat New Mexico State University this Saturday, due to a restrictive fan policy instituted by the island state's governor.
Democratic Governor David Ige has relented only minimally from his complete ban on home stadium fans.
"It's zero because we have more than 250 COVID-positive patients in our hospitals," Governor Ige said in explaining his previous total ban.
"It's zero because we have more than 250 patients in the ICUs, and we are just under the maximum capacity," the Democratic governor previously said.
Only vaccinated fans were allowed to attend the Saturday game, though the public university has been working to convince Ige to allow more fans to attend.
The College Fix spoke with the university's director of communications, Daniel Meisenzahl, via email on October 13. "Absolutely yes," Meisenzahl told The College Fix when asked if university officials believed they can safely invite fans back into their football stadium.
Meisenzahl explained that the university has "multiple different scenarios" planned out in the "public risk mitigation plan" they have submitted to the county.
Every scenario would require all fans to follow the same COVID-19 guidelines that the school has in place for their students, faculty, and staff. It included only allowing in fully vaccinated and masked fans.
Meisenzahl added that the school is continuing to ask Governor Ige and the Hawaii Department of Health to reconsider and allow them to resume full capacity within the public risk mitigation plan they have already established.
The College Fix attempted to find out the scientific basis for prohibiting fan attendance. The Fix contacted the university's epidemiology chair, Eric Hurwitz to ask if he or any of his professors had been consulted by the governor's office. The Fix has not receive a response to an email sent two weeks ago.
The Hawaii Department of Health's media office also did not respond when asked if it had consulted with the governor's office and if it believed the stadium could safely host fans.
NBC News said that the fears of "super spreader events" linked to college football games has "fade[d]."
Medical experts told NBC News that vaccination, masking and the games being played outside helped mitigate the spread of COVID.
Anthony Fauci, the top COVID adviser to President Joe Biden, previously warned people not to attend football games and other activities, even if outside.
"I don't think it's smart," Fauci said in September, though he allowed for some exceptions.
"I think when you're dealing particularly — you know, outdoors is always better than indoors, but even when you have such a congregant setting of people close together," Fauci told CNN. "First, you should be vaccinated. And when you do have congregant settings, particularly indoors, you should be wearing a mask."
MORE: Few professors can back up claims churches are COVID super-spreaders
IMAGE: University Of Hawaii Athletics DepartmentManoa/YouTube
Like The College Fix on Facebook / Follow us on Twitter