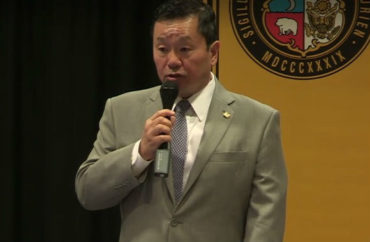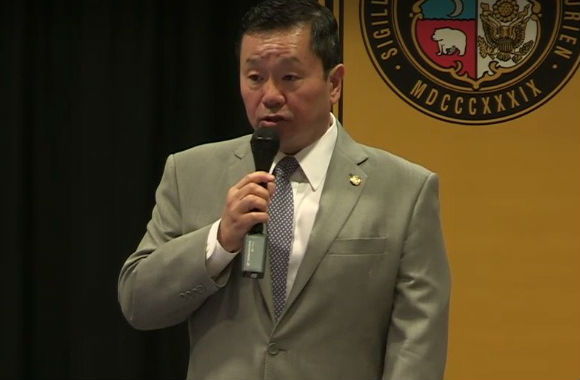 Also criticizes professor for calling 'bullshit' on decision to keep Jefferson statue
The president of the University of Missouri System is tired of hearing his subordinates challenge his decisions, such as refusing to remove the Thomas Jefferson statue at its flagship Columbia campus.
Students have demanded its removal going back five years to the racial protests that got his predecessor fired, and most recently in the wake of George Floyd's killing.
But when administrators refused to accept Mun Choi's decision, made in tandem with the Board of Curators, and actively criticized him for refusing to cave to student demands, the president (above) put his foot down.
In Zoom meetings Choi convened with deans and "top administrators" earlier this month, a slide presentation told them to "start looking for another job" if they think "senior management" makes bad decisions or they "don't agree with the philosophy and mission," the Columbia Daily Tribune reports.
Choi played down the firing threat in a subsequent interview, saying "I think" senior administrators "should leave" if they "don't trust the motivations of the senior leaders." Undermining a decision that was "made in the best interest of the institution" harms the university's "objectives," Choi said.
Dissenters should keep silent, he continued:
But when not just leaders, but staff members are actively, actively contesting that decision that was made at the institutional level and the decision was made that we are not going to move it, and there are continued efforts to have it removed, that's counter productive, that is totally counterproductive.
While the Daily article didn't mention any specific administrators who spoke out, it noted the Black Faculty and Staff Organization has called for the Jefferson statue's removal.
An article the next day said Choi slammed two faculty members who publicly criticized his refusal to remove the statue, Sebastian Martinez Valdivia and Kellie Stanfield. Martinez is also a reporter for KBIA, the University of Missouri's NPR affiliate, and Stanfield is also a news producer at KOMU, Mizzou's TV station.
Martinez tweeted that he wasn't afraid to call out Mizzou, his employer, for its "bullshit" decision to keep the statue.
"Choi used the tweets as examples of the kind of dissent from university staff that he said undermines the mission of the university," the Daily writes:
"This is not about anything [Martinez] wrote as an article," Choi said. "This is on his page where he identifies as a reporter at KBIA but he says he wants to call out the bulls–t of the university. You tell me, is that professional?"
The system president also faulted Stanfield for tweeting about university police visiting Martinez, with whom she shares a residence, to interview him as a potential suspect in the vandalism of the Jefferson statue:
"[Campus police] asked him if he was the person who spray-painted the vandalism, he said, 'no, unfortunately not,'" Choi said. "Then the KOMU reporter makes light of it, saying it was the funniest thing she had ever seen." …

"The last thing our faculty and staff should do is make light of a situation that in many cases will embolden, make it acceptable, and it is not," he said.
MORE: Mizzou students (again) demand Jefferson statue's removal
IMAGE: University of Missouri System screenshot
Like The College Fix on Facebook / Follow us on Twitter