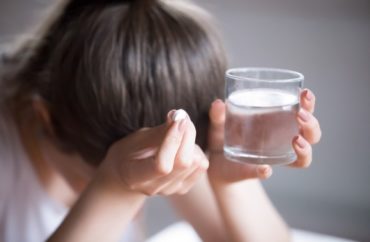 UPDATED
Same night as 'Unplanned' screening
"Greater love has no one than this, that someone lay down his life for his friends," according to a quote attributed to Jesus of Nazareth.
The University of Oklahoma's Department of Women's and Gender Studies might render the second clause as "procure an abortion for his friends."
It's co-sponsoring an event Tuesday night titled "Fighting for Abortion Access is Love," along with the department's Center for Social Justice and nonprofit Oklahoma Call for Reproductive Justice.
The dinner will feature a visual artist's interpretation of the titular theme and "talks from local activists and opportunities to get involved," according to the Facebook event description:
We fight because we know that without the ability to control our reproduction we are less free. We each have something uniquely powerful to lend this battle, and that's why we've gathered artists, activists and students together to learn and to plan together on how that message can change Oklahoma and ensure reproductive freedom.
As of Monday afternoon, 22 people said they were going and 144 were interested.
It's the same night that the university's Students for Life chapter is screening the pro-life film "Unplanned," about the pro-life conversion of former Planned Parenthood clinic director Abby Johnson.
Students for Life of America said Monday it had inquired to the university about the cost of the abortion-access event and "motivation behind" it.
The University of Oklahoma's Women and Gender Studies Department is sponsoring an 'Abortion is Love' event.

Abortion is not love.

Abortion is violence against preborn babies, moms, dads, and society.

Abortion leaves people hurting.

Abortion is hateful.

— Students for Life (@StudentsforLife) October 28, 2019
The College Fix asked SFLA why the cost is relevant, considering the event is co-sponsored by an academic department and pro-life students have fought for nondiscriminatory access to student activity fees.
Matt Lamb, the director of Students for Life Action, responded in an email that SFLA is not trying to get the event cancelled. Rather, it wants to know how much is being spent so it can advocate for "receiving an equal amount for a future pro-life event."
The pro-life group denounced Oklahoma Call for Reproductive Justice for arguing that abortion is sanctioned by religion. In SFLA's view, the pro-choice group is arguing that it's "morally okay to inject potassium chloride into a preborn baby's heart to cause a heart attack abortion or to have a teenage girl endure a painful toilet-bowl abortion," its term for a medication abortion that is completed at home.
OCRJ's website, which also says "fighting for abortion access is an act of love," appears to be the source of the event's title, SFLA noted.
UPDATE: SFLA responded to a question about its cost request to the university after this post was published. It has been added.
MORE: College ditches discriminatory funding policies to settle pro-life suit
IMAGE: Fizkes/Shutterstock
Like The College Fix on Facebook / Follow us on Twitter