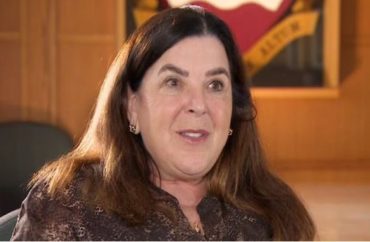 The president of Canada's Memorial University of Newfoundland is facing scrutiny over her claims of indigenous ancestry, a situation which seems to be something of a trend over the last few years.
According to the CBC, Vianne Timmons (pictured) has waffled over the years on claims about being part of an "unrecognized First Nation group" and/or the Bras d'Or Mi'kmaq tribe.
Timmons said two years ago her indigenous ancestry, from her great-great-great-grandmother, was "hidden" due to her father's shame. She said didn't want anyone else to suffer similarly.
Timmons also said that she "does not, nor has she ever claimed Mi'kmaw identity"; however, her resumé has indicated she's a "member of an unrecognized [Nova Scotian] band," and "multiple professional biographies" over a seven-year span have noted her Bras d'Or Mi'kmaq background.
A CBC investigation could not find "any Mi'kmaw relative closer than 10 generations removed," which casts suspicion on Timmons' claims.
Indigenous lawyer and scholar Pam Palmater said MUN should suspend Timmons while it investigates her genealogy.
"I think they need to hold themselves to account," Palmater said. "Even if [Timmons] did have some distant ancestor from hundreds of years ago, that in and of itself no more makes her Mi'kmaw than if she had a distant ancestor from hundreds of years ago from Germany, for example."
MORE: Fauxcahontas — White female scholars keep pretending to be Native American
Timmons said she has a census document to prove her family's story. CBC News has asked for the document for a month, and Timmons said it is likely in her mother's home in Nova Scotia. …

Palmater doesn't believe her efforts to distinguish heritage and identity have been "very honest or accountable."

"What would be the reason why people would be calling her Mi'kmaw if she herself wasn't portraying herself to be Mi'kmaw, holding herself out to be Mi'kmaw, putting in her CV that she was Mi'kmaw, or somehow making  references to that?" said Palmater.

"No one would just randomly ask that."

The past online citation of Bras d'Or Mi'kmaq First Nation membership in her biographies and CV is the "nail in the coffin," said Palmater.
In 2019 Timmons also was awarded the Indspire Award, which recognizes efforts "to help save funding for First Nations University." Timmons told the CBC that she "initially rejected it," but after consulting with a tribal elder changed her mind.
"I was acknowledging the work that was done, but also acknowledging my ancestors," Timmons said.
In a March 13 statement to her university's Gazette, Timmons said she would "temporarily step back" from the school presidency pending an "engagement process":
I have been reflecting on this feedback from the Indigenous community, and I sincerely regret any hurt or confusion sharing my story may have caused. That was never my intention and I deeply apologize to those I have impacted.

Any action I have taken in sharing my story or promoting indigenization in my professional roles was always undertaken in a spirit of reconciliation, curiosity and continued learning and respect for Indigenous Peoples. While this personal process started many years ago, I recognize these actions may be hurtful or cause harm.
As president of the University of Regina in 2014, Timmons made a school cheer team undergo "cultural sensitivity training" after it dressed up as cowboys and Indians for a social event.
Timmons' questionable indigenous claims are hardly unique — there were at least three similar instances in 2022 alone. Carrie Bourassa resigned from the University of Saskatchewan after a CBC investigation found her indigenous ancestry was bogus. In addition, a University of Wisconsin Native American-in-residence was outed as Caucasian, and a UC Berkeley "self-identified Native American scholar" ended up admitting she had "no proof of Mohawk ancestry."
MORE: Canadian schools burn and destroy books to appease indigenous population
IMAGE: CBC Newfoundland and Labrador/Twitter screencap
Like The College Fix on Facebook / Follow us on Twitter