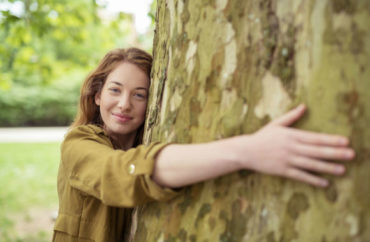 A senior research fellow at Australia's University of Sydney believes plants are intelligent and can communicate.
Monica Gagliano's personal anecdotes about our CO2-breathing fellow terrestrials include her "being rocked like a baby by the spirit of a fern" and getting advice from an oak tree … about a grant application.
According to The New York Times, "plants have directly shaped [Gagliano's] experiments and career path." Some of her published studies conclude that "plants are, to some extent, intelligent" — they can "hear" and even interact.
Gagliano realizes her claims may come off as, well, "delusional" and could harm her career. Nevertheless, she says "I want people to realize that the world is full of magic, but not as something only some people can do, or something that is outside of this world. No, it's all here."
A group of biologists who published a recent study titled "Plants Neither Possess nor Require Consciousness" refers to Gagliano's views as "a new wave of Romantic biology." Scientist Heidi Appel said Gagliano "commingl[es] science and spiritual experiences."
To communicate with plants, Dr. Gagliano followed the dieta, or the shamanic method in the indigenous Amazonian tradition by which a human establishes a dialogue with a plant. The rules can vary, but it usually involves following a diet (no salt, alcohol, sugar or sex; some animal products may also be prohibited, depending on the culture) and drinking a plant concoction (sometimes hallucinogenic, sometimes not) in isolation for days, weeks or months. An icaro, or medicine song, is said to be shared by the plant, as well as visions and dreams, and the plant's healing knowledge becomes a part of the human. …

Dr. Gagliano worked with multiple plant shamans, or vegetalistas, in Peru. There she bathed in the foul-smelling pulp of an Ayahumatree, which then designed a scientific experiment for her, instructing her to "train young plants in a maze and give them freedom of choice." The Ayahuma also helped her diagram a 2017 study investigating pea plants' use of sound to detect water.

In the memoir, she wrote that she also traveled to California to work with a health care professional who conducts vision quest ceremonies (that's when the oak tree spoke to her). She visited "the Diviner," a man trained by the Dagara people of Ghana and Burkina Faso to channel nature spirits.
The Times (unsurprisingly) also points out that Gagliano also "speaks thoughtfully" on subjects such as the "legacies of colonialism [and] capitalism."
According to her university webpage, Gagliano's scholarly articles include "Ecological Justice for Nature in Critical Systems Thinking," "Ecopsychology and the Return to the Dream of Nature," and "The Feminist Plant: Changing Relations with the Water Lily."
This summer, the Italian researcher spoke at a "sold-out" World Science Festival panel. The title of the discussion: "Intelligence Without Brains."
MORE: White people's diets are killing the planet faster than other groups'
MORE: More scholars embrace 'ecofeminism' — sex, nature, oppression, social justice
IMAGE: stockfour / Shutterstock.com
Like The College Fix on Facebook / Follow us on Twitter