Funded by federal government
Remember the Canadian university that accused a graduate student of breaking the law because she showed her undergraduates a TV debate on gender pronouns?
It also told Muslims how to vote in the country's recent federal elections.
Wilfrid Laurier University published a "Canadian Muslim Voting Guide" through its Scholars Commons, which promotes the scholarship of its academics.
It was prepared by the university's Canadian Islamophobia Industry Research Project, led by Sociology and Muslim Studies Prof. Jasmin Zine (below), and funded by the Social Sciences and Humanities Research Council, a federal agency.
The guide gives out grades to federal parties on issues of purported interest to Muslim voters, including "Alt-Right Groups and Islamophobia," "Religious Freedom and Dress in Quebec" and the anti-Israel boycott, divestment and sanctions movement. They can receive "pass," "fail" or "needs improvement" on each issue.
MORE: Professor runs for Parliament to save higher ed from itself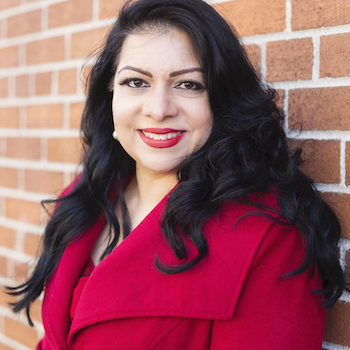 It determines grades based on whether "a party leader's particular political standpoints and/or policy initiatives are positive or detrimental to the interests of Canadian Muslims and the wider geopolitical concerns that affect Muslims globally."
The candidates of five parties are represented, including Justin Trudeau's Liberals, Andrew Scheer's Conservatives and Maxime Bernier's People's Party, under whose banner Laurier Prof. David Haskell ran as a candidate.
Far-left parties got the most "pass" and fewest "fail" grades among the five, with Trudeau in the middle. Scheer failed all but one category ("needs improvement") while Bernier failed all of them.
The introduction to the guide explains its relevance by noting that Canadian Muslims vote at a higher rate than the national average, while nearly two dozen ridings (electoral districts) have Muslim populations of 10 percent or higher.
"As such, the evaluation and analysis of the Candidate's positions on various issues is of vital importance to a growing Muslim voting base." The 34-page guide explains each grade for each party in detail.
For example, Bernier failed on Islamophobia because of his "inflammatory statements" that "Islamism, or radical Islam, is the biggest threat to freedom, peace and security in the world today," and that "the Left" tars anyone who is afraid of "Islamist terrorism, Sharia law, or traditionalist Muslim teachings" as an Islamophobe.
Trudeau, Scheer and New Democratic Party Leader Jagmeet Singh all received "needs improvement" on religious dress for identical reasons: "More decisive leadership is required to propose actions that address the stated concerns with these laws." (A new Quebec law prevents public servants "from wearing religious symbols while at work.")
The worst grades came on BDS, described by the voter guide as a "response to Israel's colonial occupation of Palestine." It was the only category where no candidate received a "pass." (Singh and Green Party Leader Elizabeth May received "needs improvement," though the grid listing grades for all subjects incorrectly identifies May as also failing.)
The voter guide drew criticism on Twitter. One user said she reached Elections Canada on the phone to complain.
MORE: WLU apologizes to TA for saying she broke the law by showing debate
Not only did they explain how to vote, they gave them voter registration cards. @ElectionsCan_E knew this and didn't tell the public. They didn't tell the public in 2015 when they saw irregularities. So who is @ElectionsCan_E working for? Its not Canadians! @RCMP @realDonaldTrump https://t.co/S6ZfeIyWap

— NotMyCanadaNEmore (@NotMyCanada62) October 25, 2019
Yes the man I was speaking with seemed sincere and very interested. People call this number, every call matters if you disagree with the Muslim Voter Guide 1-800-463-6868.

— Sharon Billen (@SharonBillen) October 25, 2019
Jewish service organization B'nai Brith denounced the use of federal funding for the voter guide in a press release Friday as well, citing the BDS category.
It notes that the guide failed Trudeau on BDS for recognizing that the movement "is a form of antisemitism that harms Jewish students on Canadian campuses."
The organization's own research shows that Prof. Zine, the lead author of the guide, received nearly $25,000 from the Social Sciences and Humanities Research Council last year for a project called "Mapping the Canadian Islamophobia Industry." The federal agency also funded an art display at Western University that "glorified the Palestinian intifada," B'nai Brith said.
It's seeking a guarantee from the new federal government, which the minority Liberals plan to lead without a partner, to deny "premises and facilities under government administration" from organizations that "express antisemitism or call Israel's right to exist into question."
"It is totally unacceptable that government funds have been used to promote an antisemitic movement in Canada" through a document that "guides" voters, B'nai Brith Canada CEO Michael Mostyn said.
Read the voter guide and B'nai Brith statement.
MORE: WLU prof quits free-speech task force to protest steep security fees
IMAGES: Jihan Nafiaa Zahri/Shutterstock, Wilfrid Laurier University
Like The College Fix on Facebook / Follow us on Twitter