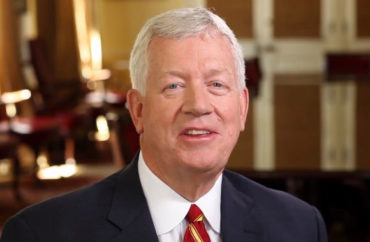 Majority-female student body, more than 20 percent 'underrepresented' minorities
Is the University of Southern California "throwing out the baby with the bathwater," presuming accused officials guilty until proven innocent after letting a campus gynecologist allegedly abuse hundreds of patients?
That's certainly how defenders of its longtime business school dean, including a female professional golfer, feel about his forced exit three years before his term expires.
Last week the private university's board of trustees gave its stamp of approval to the decision by interim President Wanda Austin to push out James Ellis at the end of the academic year, The San Diego Union-Tribune reports:
Administrators have not publicly revealed what prompted Austin to remove Ellis, sparking anger from some who say he's being unfairly treated. Two sources close to the university who were not authorized to disclose confidential matters said the administration's investigation included reviewing dozens of misconduct complaints filed over the last 10 years against business school leadership, faculty and staff. Those complaints included allegations of racial and gender discrimination and hostile workplace conditions, the sources said. The specific details of the complaints or how they were adjudicated are unclear.
One of the protesters outside Wednesday's trustees meeting was professional golfer and 2016 alumna Victoria Morgan, who called Ellis (left) "a man of great integrity. I can't imagine he'd do anything to warrant this."
The trustees ignored Morgan, as well as the advice of more than 100 business leaders that advise the business school to "immediately intercede and rescind" Austin's "misguided decision," according to the Los Angeles Times.
They also ignored a resolution unanimously approved by USC's Academic Senate last week, which sided with business school faculty who said Austin's decision "lacked shared governance and transparency as to the process."
Austin's explanation that she was removing Ellis because of the "lack of culture" and "lack of diversity" at the business school angered the dean's many supporters, with the Alumni Association leading a protest Dec. 7, according to CBS Los Angeles,
A young woman who appeared to be a student said at the protest that she "can't imagine what is out there but I do know Dean Ellis and I believe he's a man of great integrity." Another told CBS Los Angeles that Ellis was the "most successful and impressive dean" the business school ever had.
One of the speakers was alumnus and investment banker Lloyd Greif, who noted that under the leadership of Ellis the student body reached majority-female status and exceeded 20 percent "underrepresented minorities."
MORE: Appeals court blasts USC for indifference to exonerating evidence
The graduate business education publication Poets & Quants noted that Austin's move was terribly timed: Ellis had received a $70,000 "performance bonus" only two months earlier. The school under his leadership has also just reached "gender parity" in its full-time MBA program and it was ranked the 13th best business school by Bloomberg Businessweek.
Austin's decision came after the school hired the Cooley law firm to investigate the handling of sexual harassment and discrimination claims filed with the Office of Equity and Diversity going back nearly 10 years.
Ellis hasn't seen the report, but a few trustees have, including entrepreneur Ming Hsieh, according to the Union-Tribune:
"There was no evidence or conclusion from any documents I read that there was racial, sexual or aging discrimination at the Marshall School or by Dean Ellis or his senior administrators," said Hsieh, who has given more than $85 million to USC.
'Reminiscent of the depths of the hysteria of the McCarthy era'
The most active defender of Ellis has been Greif, who has donated more than $5 million to USC.
An Ellis supporter, who conceded that there is "zero chance" of the trustees reversing their decision, shared three Greif letters to USC entities with The College Fix. The first was sent Nov. 30 to the advisory boards for the business and accounting schools.
Ellis is a saint compared to the deeply flawed deans who preceded him, and the Cooley report – which has been withheld from Ellis – apparently blames him for "not acting upon complaints of which he had no knowledge," Greif wrote the advisory boards:
In a tactic reminiscent of the depths of the hysteria of the McCarthy era, Jim has been accused of failing to act upon a series of complaints registered with the University's Office of Equity and Diversity since 2009 that were made, not against him, mind you, but against various Marshall faculty and staff. Of these complaints, Jim was only notified of approximately 10% of them (presumably the handful that OED deemed worthy of further review), all of which he dutifully investigated and resolved. Most of these were found to be baseless. Yet he's now being retroactively held accountable for the University's—not the Marshall School's—broken governance policies?
Greif called the proceeding launched by Austin a "kangaroo court of the highest order," with no written explanation "setting forth the reasons for his dismissal, despite repeated requests that he, his legal counsel and I have made. From all appearances, he is being railroaded."
His forced exit is particularly perplexing given that the business school was one of the first at USC to "implement mandatory unconscious bias training for all recruiting committees and mandatory diversity and inclusion training for all faculty," Greif wrote.
USC megadonor Richard Greif's letters against forced exit of business school dean James Ellis by The College Fix on Scribd
MORE: Alleged racist remarks at USC lead to calls for mandatory race training
In the first letter to the board of trustees, dated Dec. 6, Greif said the matter was no longer about "whether Jim Ellis stays or goes" as dean, but whether USC has "the courage to banish the demons of the last 18 months," including the gynecologist scandal, by becoming more transparent.
Greif accused the administration of "simultaneously launching a disinformation campaign while endeavoring to silence its critics," with one official falsely telling Greif that Ellis had seen "all" of the Title IX complaints registered with the diversity office.
After Ellis informed faculty he was trying to learn why he was being pushed out, Provost Michael Quick accused him of misusing his office "to advance your own personal agenda" and pressure faculty to support him "out of fear of retaliation. … If you do that again, you will be subject to further action."
Greif called this a "blatant attempt" to silence Ellis by threatening to fire him from the business school entirely, where he'll continue teaching after his deanship ends. All he did was "speak the truth on a college campus and defend himself and his good name," the donor wrote, theorizing that USC was trying to "undermine and taint" likely faculty support for Ellis.
He blasted Rick Caruso, chair of the trustees, for participating in USC's "shameless disinformation campaign" by falsely implying that Ellis "got a fair hearing, with complete transparency and due process," even though he's never been shown the Cooley report:
If the most beloved, inspiring and accomplished dean on campus can be taken down as seemingly capriciously as Jim Ellis is being dispatched, what does this mean for the values and principles for which this great university once stood?
The second letter to trustees, sent the day before they voted to back Austin's decision, scolded trustees who have claimed they have no authority except to "hire or fire" USC's president.
"The Board of Trustees has a fiduciary duty to USC and owes it the highest duty of care. That means you are responsible for safeguarding the University from harm, whether wrought from internal or external sources," and considering the views of faculty:
In a survey of Marshall [business school] faculty conducted within the past two weeks, the faculty overwhelmingly endorsed Jim Ellis, deeming him "fair, unbiased and supportive of a positive culture." In his ouster, the vast preponderance perceived "a lack of due process and transparency." Representative comments from the faculty included feeling "shocked," "troubled," "fearful," "dismayed," "upset" and "outraged" about both the process and the outcome.
He asked the rest of the trustees to read the Cooley report, since their colleagues who have reviewed it said that it "concluded that there was not a culture of discrimination at the Marshall School and that neither Dean Ellis nor his leadership team discriminated on the basis of race or gender."
Greif made a new accusation against USC, citing "a number of parents": The university's Facebook page for USC parents has been deleting "letters and comments relating the current controversy" and blocking new comments.
He warned trustees that if they didn't stop Austin's move, they would be held responsible for an exodus of business school faculty "for greener pastures," a dip in "high-achieving" applicants, a "crash" in the business school's rankings, fleeing donors and another hit to USC's reputation.
None of the administration's actions has made sense, Greif concluded: "If Jim's behavior was so egregious, why fire him, but keep him around as dean for seven more months and indefinitely as a tenured professor?"
MORE: USC prof's job looks safe after championing due process
IMAGES: USCMARSHALLCIBER/YouTube, USC Marshall School
Like The College Fix on Facebook / Follow us on Twitter