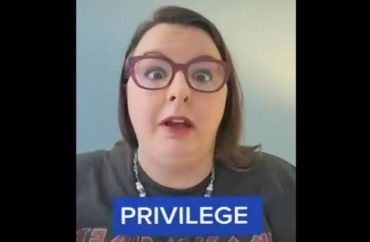 'You don't have all the disabilities … there's some disability that you would be lacking … that you have privilege from not having that disability.'
A psychology professor from Southeastern Louisiana University recently was featured by Libs of TikTok complaining about her students being reluctant to admit they have at least one type of "privilege."
"Would you be able to answer this question on one of my tests for Social Psychology?" asks Sara Sohr-Preston. "Tell me one way that you have privilege […] and say how your life would be different if you didn't have that type of privilege."
Before revealing what the essay question is about, Sohr-Preston emphasizes that she's taught her charges all about the numerous types of privilege: white privilege, Christian privilege, able-body privilege, male privilege … and even thin privilege.
"Are you able to say out loud and admit to yourself and to the world that you have that privilege?" Sohr-Preston reveals at last the test question. But she laments that even after she's "clearly explained" what "privilege" is, her students just can't do it.
"No, I don't know … no, I don't have any privilege," Sohr-Preston mocks a hypothetical student in her class, and says a lot of students simply will avoid answering this question on her exam. But regarding those that do, the prof says she gets "weak-ass answers."
Switching again to a mocking tone, the developmental psychology professor says "Well, I've got 'strong privilege.' I've got 'smart privilege.' I'm like 'Y'know, you could've said you have white privilege. You could have said you have male privilege." Etc. In fact, Sohr-Preston emphasizes that even disabled students have some privilege: "You don't have all the disabilities … there's some disability that you would be lacking … that you have 'privilege' from not having that disability."
MORE: U. Rochester prof discusses the latest of privileges — 'visual privilege'
But, again, her students "just don't wanna do it … there's so much resistance" (emphasis in the original).
Sohr-Preston proceeds to list her privileges: white privilege, cisgender privilege and able-body privilege." She notes she doesn't have "thin" privilege; however, she classifies as a "mid-fat" so there is some privilege associated with that category — because she's not "large-fat."
Psychology professor at @oursoutheastern says she taught students about privilege including white, male, thin, cis, Christian, and straight privilege and tested them on it pic.twitter.com/Lmlfv1Maib

— Libs of TikTok (@libsoftiktok) August 2, 2022
Oddly enough, despite overwhelmingly positive ratings on Rate My Professors.com, a few students wrote that Sohr-Preston complains about her classes on Twitter (on an account which is now private). The Google cache of her Twitter feed shows that Sohr-Preston describes herself as a "socially awkward professor" and "unapologetic feminist." She also retweets a lot of socially ultra-progressive tweets, such as one claiming that monkeypox is not a sexually transmitted disease and that "No K12 teacher has ever taught critical race theory to K12 students."

The College Fix reached out to Sohr-Preston for comment on her video; she did not respond.
Of course, the professor is hardly unique in her beliefs about "privilege"; academics have been stretching the concept seemingly without limit for years. Last year, University of North Carolina students got to learn about "right-handed privilege," and a pair of profs from George Mason and U. Missouri lectured about "family privilege."
And don't forget that "white privilege" can encompass virtually anything conceivable — such as French food, free wifi, and yoga.
MORE: Prisons, sports, clothing stores examples of 'straight and cis privilege,' says college display
IMAGE: Libs of TikTok/Twitter screencap; Google cache screencap
Like The College Fix on Facebook / Follow us on Twitter