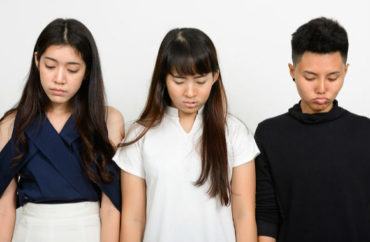 Black-white SAT gaps are most stark at UVA and William & Mary
Whites get more admissions preferences than Asian Americans at five public colleges in Virginia, but the two most selective schools give large preferences to blacks over both groups, according to a new study by the Center for Equal Opportunity.
The breadth of racial preferences at the University of Virginia and College of William & Mary stood out from George Mason University, Virginia Tech and James Madison University, which have comparatively small differences in preferences, the report concluded.
The center, which portrays itself as "the nation's only conservative think tank devoted to issues of race and ethnicity," analyzed admissions data it obtained from the five schools under Virginia's Freedom of Information Act.
It said it has previously obtained FOIA data from Michigan, Ohio, Oklahoma, Washington, Wisconsin, Colorado and California public colleges. But the report faults colleges and universities in general for making it difficult, "or in some cases impossible, for outsiders to obtain" their admissions data and verify how their preferences work.
While the report does not describe the racial discrepancies as "discrimination," an email from President Roger Clegg says the admissions data reveal "a significant amount of discrimination," especially at UVA and W&M, the most selective of the five.
MORE: After backlash, College Board dumps SAT 'adversity score'
"Virginia's public universities are perhaps the country's most selective among those still allowed to use racial and ethnic preferences," he wrote in an email blast. Yet "perhaps the most salient finding" is the uniform discrimination against Asian Americans in test scores by all five. (Differences in GPA medians, by contrast, are negligible across racial groups.)
The colleges are disputing the portrayal by the center, saying they use "holistic" admissions as permitted by the Supreme Court. But none commented specifically on the report's findings for their own school.
UVA, W&M, JMU and GMU all told The College Fix that test scores do not capture the full picture of their admissions process. (Virginia Tech did not respond.) The first two, the most selective, contended that racial considerations are crucial when diversifying the student makeup of elite public institutions like theirs.
Bill Wyatt, director of communication for JMU, took issue with the methodology of the report. After JMU provided the data in February, the center "did not bother to ask any questions about our admissions process," he told The Fix.
'Large odds ratios' in favor of black students over white students
Over four decades, the Supreme Court has steadily narrowed the grounds for affirmative action while expressing reluctance to dig too much into any given college's use of holistic admissions.
The last major ruling, in 2016, upheld admissions practices at the University of Texas. The majority opinion by Justice Anthony Kennedy, who has since retired, said that courts owe "[c]onsiderable deference" to universities as they seek to create diverse student bodies.
But he cautioned that "there is no dispute" that race must play a minimal role in holistic review – a "factor of a factor of a factor."
The 4-3 decision likely would have been 4-4 – still upholding the UT program – if Justice Antonin Scalia had not passed away four months earlier. (Justice Elena Kagan recused herself, having submitted a friend-of-the-court brief in the case as solicitor general.)
Justice Neil Gorsuch filled Scalia's spot the following year, and Justice Brett Kavanaugh filled Kennedy's spot in 2018, creating a possible 5-4 majority against affirmative action if another case reaches the court.
The center's report seeks to answer the question of what role race and ethnicity play at the five Virginia schools, "compared to other factors such as gender, residency, legacy status, and academic credential." Only with empirical data can courts determine if race or ethnicity are "one of many factors," it said, referring to the Supreme Court's original ruling, known as Bakke.
"When statistically controlling for grades and test scores, along with gender, legacy status, and residency, the largest preferences were granted to blacks over whites at UVA [below] and WM, while Hispanic chances of admissions were somewhat smaller at these schools," the report says.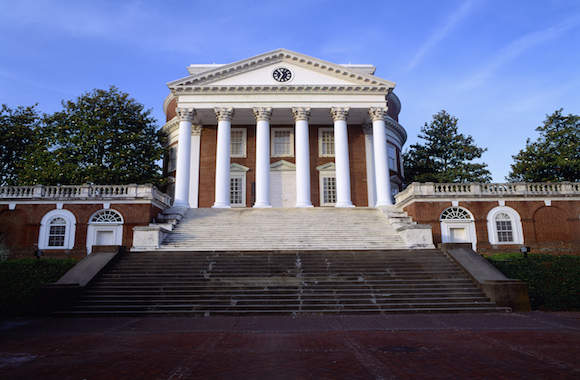 MORE: Texas Tech to stop discriminating by race in med school admissions
The median SAT score for whites accepted to UVA was 180 points higher than the score for black students the university accepted, and 190 points at W&M. Those gaps are about twice as large as the gaps at the other three.
Asian Americans scored 60 points higher on the SAT than whites on average among those admitted to UVA, and 50 points higher at W&M.
Each racial group's chances of getting into UVA or W&M were only a few percentage points apart, though. Blacks were accepted at the highest rates (35 percent and 41 percent) and whites at the lowest (30 percent and 35 percent).
Yet the center claimed that its "logistic regression analysis" found "large odds ratios" in favor of blacks over whites at UVA (6.75 to 1) and W&M (19.77 to 1). The latter also had a strong preference for Hispanics over whites (6.73 to 1). Any ratio above 3 is considered "large," and the other three schools had small ratios (1.5 and under).
The gaps were reversed – and more stark – at the other three schools, none of which admitted fewer than half of any racial group's applicants. Whites had the highest admission rate at Virginia Tech and JMU, and tied with Asian Americans at GMU. The black-white gap was 18 to 26 percentage points.
Whites with "higher grades and test scores compared to black admitted medians" were the most likely to be rejected by UVA and W&M: They comprised 72 percent (1,675) and 82 percent (943) of the rejections. The vast majority of those were also out-of-state applicants.
The trend is reversed among the other three, whose rejections are largely in-state applicants. Far fewer who scored above black admitted medians were rejected, however.
'Without understanding our admission criteria, the report's findings are useless'
Rather than respond to the study's findings for their own schools, media relations officials issued blanket denials that their admissions practices constitute discrimination against any group.
UVA and W&M officials specifically denied they treated Asian American applicants unfairly, arguing instead that racial considerations are crucial to holistic admissions. These schools stand by the idea that diversity exposes students to unique perspectives that they may not find in otherwise racially or socioeconomically homogeneous classrooms.
UVA recruits a "talented, diverse, resilient, and service-oriented group" each year, and is proud of their "academic quality, diversity and socioeconomic breadth," Wesley Hester, director of media relations, wrote in an email.
The university looks beyond mere test scores when combing through applications, considering "race, ethnicity, gender, artistic talent, athletic talent, veteran status, unusual life experiences and a variety of other factors" as equally important, he said.
Hester also cited "a student's background and life experience," such as their family history of attending college and parents' educational level, and factors such as teacher recommendations, extracurriculars and "leadership."
William & Mary focuses on achieving "a wide range of talents, interests and backgrounds" in each entering class, Director for News and Media Suzanne Clavet wrote in an email.
MORE: Students sue UT for rejecting them based on their race
"The option for students to disclose their race and ethnicity gives them the chance to share with us another element of their background," she said, which allows the school "to enroll the best and brightest students and build a class representative of the public we serve."
James Madison University and George Mason University – two of the three that admitted white and Asian students at higher rates than black and Hispanic students – both claim that race is not a factor in their admissions process at all.
"Mason, a top tier research institution, is responsible for 64 percent of enrollment growth in the state in the last 10 years," David Burge, vice president for enrollment management at the university, wrote in a statement provided by a spokesperson. "We pride ourselves on how many students we admit, not how many we turn away."
"JMU is committed to diversity and strives to be an inclusive community that values the richness of all individuals and perspectives," without making race and gender a "consideration" in admissions, spokesperson Wyatt told The Fix.
The center's lack of communication with JMU led it to draw conclusions that are not substantiated by the holistic nature of its admission process, he said.
"Test scores are not a major factor in our decision making process nor do we consider overall GPA as part of the admissions decision," he explained. "Without understanding our admission criteria, the report's findings are useless."
MORE: MIT has few Asian Americans because of 'holistic' admissions
IMAGE: Ranta Images/Shutterstock
Like The College Fix on Facebook / Follow us on Twitter