Keith Fink may no longer teach at UCLA, but frustrations over his termination still linger on the public university's campus.
Scores of provocative posters shaming members of the university's faculty and administration for ousting Fink a few months ago were recently put up in multiple buildings on campus, according to photos provided to The College Fix.
It's unclear who hung the posters, but Mark Daniels, a UCLA senior who provided images of the posters to The Fix, suggested angry students are likely behind their appearance.
"It seems almost obvious that it's a concerted effort by Professor Fink's former students who are outraged at the university's handling of his recent review," Daniels said.
UCLA terminated Fink, a lecturer who isn't shy about criticizing UCLA for trampling on students' speech rights, in June after he failed an employment review he claims his department rigged against him in an effort to oust him because they don't like his right-of-center politics.
MORE: Conservative UCLA professor put through 'star chamber' review
In particular, Fink has called out chair Kerri Johnson and vice chair Greg Bryant, two people featured in the posters.
Several of the posters read "Wanted" and include photos of specific faculty members and administrators. A "Wanted" poster for Johnson refers to the Communication Studies department head as Kerri "Lawless" Johnson.
"Treasonous disregard of our country's core values," the bottom of the poster reads.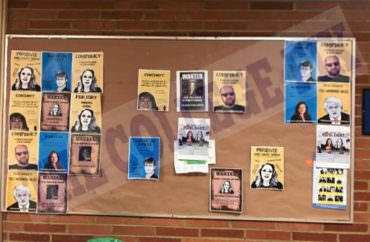 Another poster featuring Johnson reads "Prosecute Kerri 'Lawless' Johnson" with the phrases "conspiracy to oust conservative thought," "perjury," "seditious libel" and "false reviews of faculty" listed below.
Bryant is also targeted with one sign showing his face and reading "Conspiracy to fabricate evaluations of faculty members," referring to Fink's accusation that Bryant wrote an evaluation biased against him.
A total of eight UCLA administrators and faculty members are featured on a poster and dubbed "The H8ful Eight." The poster lists Johnson as "Viewpoint Discrimination Chair & Puppeteer-in-Chief" and UCLA Chancellor Gene Block as "Chancellor of Speech Suppression."
Fink's former teaching assistant Andrew Litt told The College Fix the posters highlight continuing anger directed at the UCLA administration over its decision to oust Fink, who was wildly popular with students.
"As I see it, these posters target many of the 'key players' in Keith Fink's botched excellence review," Litt said. "Even though administrators may want Keith [off] campus, student demand for him to continue teaching is nearly at an all-time high."
Fink's termination ended a months-long saga between the UCLA administration and Fink, who said his superiors blocked students from taking his free speech courses and put him through a "star chamber" review process.
MORE: UCLA students blocked from enrolling in conservative professor's course
Following Fink's termination, Litt told The Fix "this outcome is entirely politically-motivated." Fink, also an attorney, is now fighting back against the decision.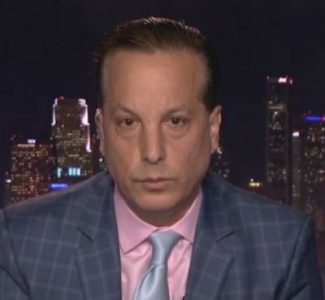 In July, Fink (pictured) filed a grievance with his union against the public university for canning him. Additionally, the Foundation for Individual Rights in Education sent a letter to UCLA in early August regarding concerns about whether comments Fink made that were critical of UCLA influenced his excellence review.
However, Litt said UCLA is ignoring these probes.
"The school is intentionally disregarding the deadlines it's bound to for the grievance procedure. The school initially blew off FIRE's investigation, only later to have someone from the President's office 'promise' that an investigation was happening (one month later, there's been zero followup)," he said.
UCLA did not immediately respond to The College Fix's request for comment.
MORE: Conservative professor terminated at UCLA files grievance
Despite Fink's ongoing feud with the UCLA administration, the former lecturer still has widespread support among students. About a dozen student groups have invited him to speak to their members this fall, according to Litt. Talks have already been confirmed with the Bruin Republicans, UCLA's Young Americans for Freedom chapter and the Graduate Student Association.
Meanwhile, Fink is working to establish a legal nonprofit to provide free representation to those who believe their free speech rights have been violated by UCLA.
MORE: An inside look at the 'Free Speech' class UCLA blocked students from taking
MORE: Students decry UCLA's ouster of conservative professor
Like The College Fix on Facebook / Follow us on Twitter