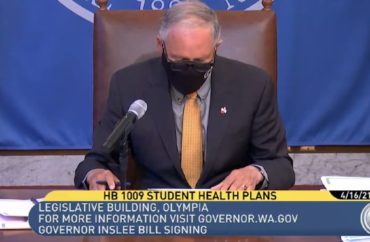 Legal fight expected
Washington Governor Jay Inslee signed legislation on April 16 that requires all student health plans at public universities to cover abortion.
HB 1009 said student health insurance plans "may not limit a woman's access to services related to the voluntary abortion of a pregnancy." Insurance plans "that provide coverage for maternity care or services must also provide substantially equivalent coverage to permit the voluntary abortion of a pregnancy."
"Reproductive health services should be available to all individuals," Inslee said when he signed the bill. "This is a great win for the access to reproductive rights," the Democratic governor said.
The legislation will not require religious universities to cover abortion in their health plans, but it still creates a threat to religious freedom according to opponents.
"It's just another attempt to force insurance providers to cover abortions regardless of the religious, social or other objections of institutions and individuals," Republican state senator Mike Padden previously told The College Fix.
Opponents included Karlie Lodjic of Students for Life of America and Adrienne Joyce of the Washington State Catholic Conference, according to a Washington House of Representatives staff report of the legislation.
Student association leaders at various universities supported the legislation, according to the house and state senate report on the bill.
Supporters said this was needed because a 2018 abortion law, the Reproductive Parity Act, did not mandate abortion coverage in student health plans.
Padden previously told The Fix that he expects legal action against the legislation, since pro-life students will still have to subsidize their peers' abortion coverage.
The Parity Act is currently in a legal battle.
MORE: Meet the business school professor combating pro-choice talking points
IMAGE: Jay Inslee/YouTube
Like The College Fix on Facebook / Follow us on Twitter