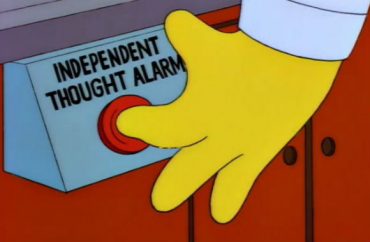 'They're looking to exploit you' when students get angry at them
There exists a curious figure that provokes rage and violence at Washington State University.
This creature is known as the College Republican, and the public university's Bias Advisory Response Team wants you to know how to deal with it.
The Daily Evergreen reports that the team – "advisory" apparently signals it can't punish you, just chill your speech – held "de-escalation training" for students late last month and Tuesday, in anticipation of College Republicans' events on campus.
The conservative students "plan to build a replica of the proposed border wall between the U.S. and Mexico" and host other events "that could attract a crowd," according to the paper.
WSU students have a mixed record in responding to speech they dislike. One bragged about ripping up a pro-life display, while the College Democrats rightly set up a competing event when the CRs brought anti-feminist firebrand Milo Yiannopoulos to campus.
State lawmakers have been even worse, with a dozen Democrats calling on WSU to derecognize the CRs chapter. The president refused their demand.
MORE: 70 colleges send cops after people who trigger 'bias incidents'
WSU's bias team is one of many across the country that include law enforcement, a worst practice identified by the Foundation for Individual Rights in Education.
Sgt. Dawn Daniels helped organize the training for students so they can "navigate through these kinds of [controversial] situations in school and in life," she told the Daily.
The public information officer for WSU's college of veterinary medicine, Charlie Powell, told students it was the College Republicans' fault for trying to bait them into arguing:
"The best skill is to not engage," he said, "discipline yourself. You won't change their minds."

He said it is important to strengthen peers who might be affected by events like these so they do not intervene with those situations. …

MORE: WSU student sit-in demands ban on 'hate speech,' free tampons

There have been numerous examples of people who were asked provocative questions on camera in an attempt to get a rise out of them, he said.

"They're looking to exploit you by putting it out on social media," Powell said. "They can do this because you have no expectation of privacy in public settings and they might misrepresent you."
And of course, the taxpayer-funded bureaucrat (left) told students to "document and report any situation that causes them to feel threatened or unsafe."
The College Republicans blasted the administration for blaming them for the inability of campus leftists to regulate themselves.
President Amir Rezamand told Campus Reform: "The implication that we are somehow linked to possible violent situations is especially egregious. We have been assaulted at our events, never the other way around."
He said the bias team is fostering a "climate on campus that nobody is willing to engage in frank discussion about controversial topics" and perpetuating the narrative that persuasion is impossible.
Read the Daily and Campus Reform articles.
MORE: WSU president refuses Democrats' demands to derecognize CRs
IMAGES: Frinkiac.com, WSU College of Veterinary Medicine
Like The College Fix on Facebook / Follow us on Twitter