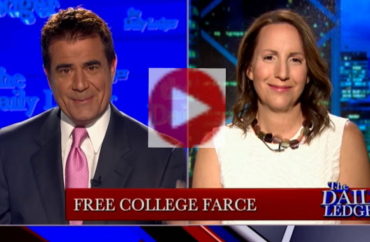 College Fix editor Jennifer Kabbany recently appeared on The Daily Ledger on One America News Network to discuss the latest troubling campus trends.
She discussed how student activists at Harvard University were furious that the campus newspaper, the Harvard Crimson, called Immigration and Customs Enforcement for a comment about a campus protest to abolish ICE.
Kabbany also discussed The College Fix's latest campus video, in which students said they think taxpayers, the government, and "the rich" should foot their tuition bill.
Like The College Fix on Facebook / Follow us on Twitter