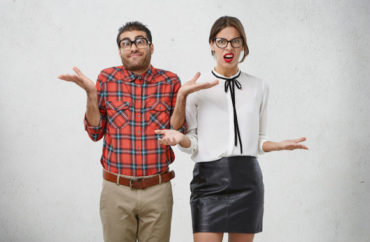 UPDATED
'Subtle but reliable ironic consequence' of progressive views
White liberals tend to use words that make them appear less competent when speaking to black people, while conservatives do not change their speech towards racial minorities, according to a study set to be published in the Journal of Personality and Social Psychology.
"This possibly unintentional but ultimately patronizing competence-downshift suggests that well-intentioned liberal Whites may draw on low-status/competence stereotypes to affiliate with minorities," wrote the authors, Cydney Dupree of Yale University and Susan Fiske of Princeton University.
A century of stereotypes deployed against racial minorities, including that blacks are "lazy" and "low in intelligence," may provide a base for "less direct forms of bias" that white liberals can display when speaking to blacks.
They may "indirectly express a patronizing form of bias," the study says, "by drawing on negative status/competence stereotypes about Blacks." The authors say this reflects a "subtle but reliable ironic consequence" of white liberals' higher support for "racial equality."
Fiske (left) told The College Fix that she and Dupree – white and black researchers – wanted to see if "people talk across status in … functional or dysfunctional ways."
White liberals "are trying to be likeable and not racist, but black people often seek to be respected," she wrote in an email.
"We see this when higher status people care about subordinates' opinions: they downplay competence to seem warmer and likable; subordinates downplay warmth to seem more competent and worthy of respect."
Fiske's specialty as a psychologist is how "stereotyping, prejudice, and discrimination are encouraged or discouraged by social relationships," while the organizational behaviorist Dupree studies how to "increase the inclusion of under-represented minorities within and across organizations."
The Fix asked black economists who study race for their take on the study.
George Mason University's Walter Williams, author of Race and Economics, wrote in an email that he hadn't read the study and "thus have no opinion" but "I'm not surprised by the finding that white liberals behave differently with blacks than white conservatives."
Brown University's Glenn Loury, host of a long-running interview show, responded "Wow!!" when presented with the study.
He wrote in an email that he finds the "'racial-stereotype-of-blacks-as-less-competent' hypothesis to be plausible":
If that's what's going on, then one would presume liberals to be no more likely than conservatives to embrace the stereotype. It would just be that they are more likely to alter their behavior with blacks in light of it.
MORE: Loury interviews Penn Law professor on her black students' grades
Conservatives treat 'Lakisha' the same as 'Emily,' liberals don't
Dupree and Fiske first compared the use of words related to competence and warmth between speeches by white Democratic and Republican presidential candidates.
They found that Democratic candidates would use fewer competence-related words when speaking to a minority audience than when speaking to white audiences. This is despite white Americans' growing support for blacks and a significant increase in black elected officials since the 1970s, the study says.
"It was really surprising to see that for nearly three decades, Democratic presidential candidates have been engaging in this predicted behavior," Dupree told Yale Insights, the in-house publication for the Yale School of Management, where she teaches.
The Republican National Committee and Democratic National Committee did not respond to emails and calls from The Fix asking why their candidates use such different language from their opponents.
The experimental part of the study provided participants with a typical white name, Emily, and a typical black name, Lakisha. It asked them to select words they would use to write emails to each name.
Liberals used words that made them appear less competent when they thought the person they were talking to was black. Conservatives did not change their word choice depending on whether they thought the person they were addressing was black or white.
'Patronizing competence downshift'
The authors suspect that liberals could be trying to appear more likable and friendly, but Dupree (right) told Yale Insights it was possible that "this is happening because people are using common stereotypes in an effort to get along."
Whites with "the most egalitarian attitudes" might want to get along with minorities the most, but lack the skill to get across "their well-intentioned beliefs," according to the study.
The research suggests that for whites who are "more affiliative toward minorities – that is, liberals – stereotypes may play a role in the impression management strategies utilized affiliation attempts," which could lead to a "patronizing competence downshift."
While there have been many studies on how people with racial biases behave when put in a multiracial setting, Dupree told Yale Insights there's "less work that explores how well-intentioned whites try to get along racial minorities."
The study says future research is needed to identify when different types of liberals show this competence downshift, explain what drives it and examine its "boundary conditions."
Dupree said she hopes further studies "will help include well-intentioned people who see themselves as allies but who may unwittingly contributing to group divides." She did not respond to an email from The Fix asking why the authors believe there has not been more research done on this.
"It's complicated to study both sides of inter-racial interactions at the same time—or at least from both perspectives in the same research program," Fiske told The Fix.
Early data from followup studies have shown that describing a black person as intelligent or highly motivated can reduce the possibility that white people will present themselves as less competent to blacks, according to Yale Insights.
Before he had read the study, Brown's Loury told The Fix "one obvious speculation comes to mind" to explain its results:
In many lines of activity (not only academic), there are broad racial population differences in competence/performance, on the average, disfavoring blacks. Affirmative action — in college admissions or in employment, for example — could lead to these population disparities being reproduced within particular organizations. If so then, whereas white liberals might be reluctant to expose such racial performance disparities by advertising to their nonwhite interlocutors their own competence, white conservatives would likely not be so encumbered… [sic]
After reading it, he was "mildly surprised that this [downshift] effect is prominent enough" to show up in both the political speech and experimental parts of the study, and believes the sources of such downshifts are "likely to be broader than affirmative action."
Loury finds it "plausible" that people are "speaking more simply and colloquially" with others to appear more friendly. This could explain why conservatives don't change their speech patterns, since they would be "less interested in appearing friendly."
Only more research can "tease this out," Loury said.
MORE: Loury approves stat model that finds anti-Asian Harvard admissions
University of Michigan-Flint economist Mark Perry, who is known for using antidiscrimination complaints to secure equal opportunities along racial and gender lines in public university settings, declined to use his own words to comment on the study.
The white professor and American Enterprise Institute scholar instead cited a quote by the black economist Thomas Sowell of the Hoover Institution:
While those liberals who have adopted blacks as their mascots, and those black "leaders" who go along to get along, may be able to point to all sorts of political benefits they have delivered, that is not enough to offset ruining education, law and order, and the family.
UPDATE: More material from an interview subject has been added after The Fix clarified it was on the record.
MORE: Perry gets women-only, minority-only awards nixed at UMich
IMAGES: WAYHOME studio/Shutterstock, Princeton University, Yale University
Like The College Fix on Facebook / Follow us on Twitter