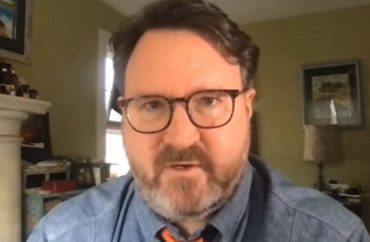 Students accuse professor of racism for criticizing antiracism
"Would I please resign? No. Nope. Not a chance. Never gonna happen. No way. Haven't even thought about it. Not for a second. No."
That was the definitive answer that Aaron Kindsvatter, a professor of counseling at the University of Vermont, has given to those on campus who are demanding he leave it.
The professor made the statement in response to a petition titled "Demand the Immediate Resignation of UVM Asst Prof Aaron Kindsvatter."
The activists are upset that Kindsvatter recently made a video that argues antiracism efforts on campus in effect amount to racism against its white population.
"His most recent video, 'Racism and the Secular Religion at the University of Vermont' is harmful to our campus' community of color. His demands to remove anti-racist work done by administrators on the basis that it 'reduces his identity to his race' defends his privilege and denies accountability that campus groups have spent years advocating for," the petition states.
The petition adds:
Aside from the Asst. Professor's video tirade, his public Twitter profile has retweeted and actively engaged in racist tweets claiming of "white genocide." He believes "wokeness" to be a proxy for abusing power. As an individual, you have the right to believe that. However, as a professor in the College of Education and Social Services, you have the authority,  professional academic obligation and sphere of influence pertaining to counseling and mental wellbeing where it is imperative to realize all of one's own biases. Simply put, Aaron Kindsvatter hides behind sophisticated, elitist rhetoric to mask his self-victimization and racist ideology–a tactic employed by white elites in America to cover up their racism.
Kindsvatter is no stranger to speaking out against progressive policies at the University of Vermont. In 2016, he openly and heavily criticized the school's bias response team for its overreaching powers. In 2019, he pushed back against its equity and diversity mandates.
In fact, the activists used a screenshot from an old College Fix article as the main image for their petition.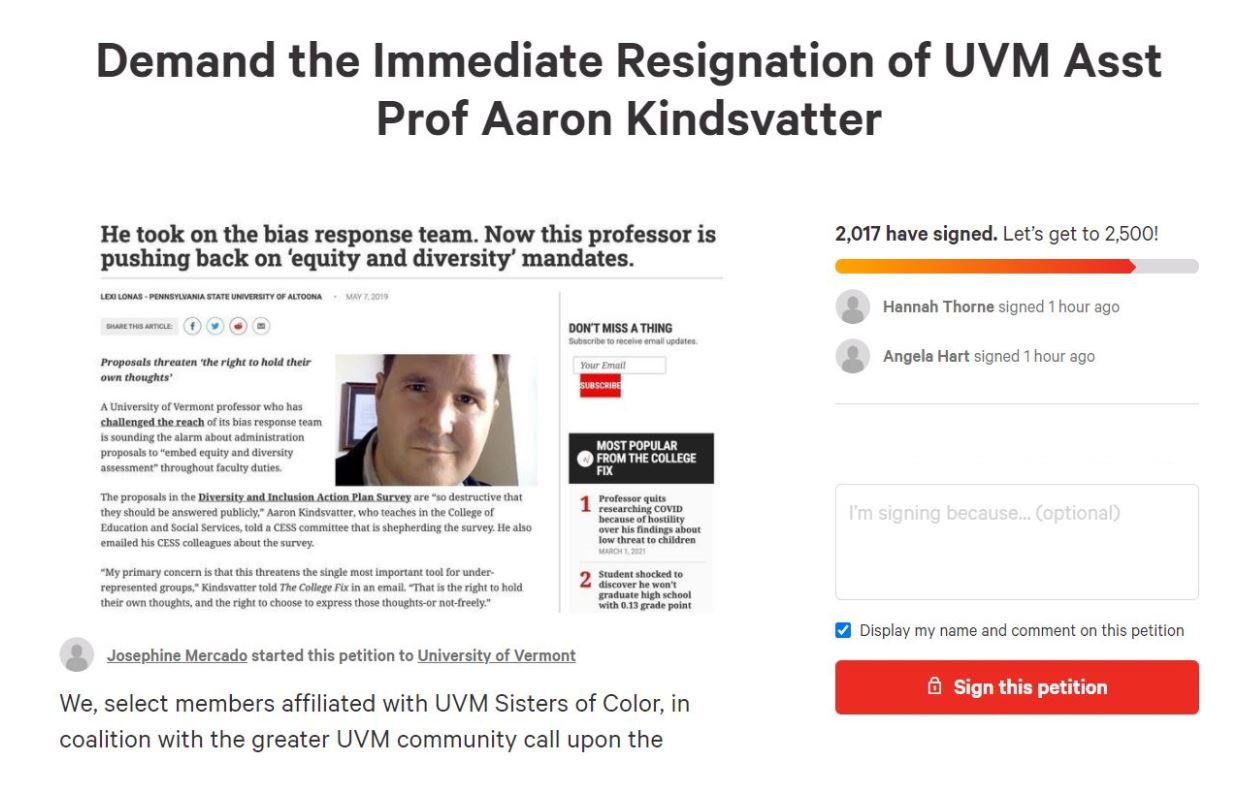 In his debut video posted March 8, Kindsvatter said the antiracism pedagogy is "crude" and "lacking in falsifiability." He ended his video with calling on the University of Vermont to "stop reducing my person to a racial category in your teach ins."
"…Please stop telling me my views are harmful just because they're more moderate than yours are. We all share the same values, we all want the same thing for our university and our society — it doesn't mean that we all have to think the same way."
According to an article in the Vermont Cynic, the student newspaper, the petition was started by a student who founded of UVM Sisters of Color group. It had about 2,000 signatures as of Tuesday night.
The newspaper also reports that administrators have denounced Kindsvatter's sentiments and are working to help students cope:
In a March 15 joint statement, Provost Patricia Prelock and CESS Dean Scott Thomas stated Kindsvatter's videos do not reflect the values of UVM or their community.

"We will continue to lean into our [diversity equity and inclusion] efforts, and in so doing, create further opportunities to strengthen our community," the email stated. "This event has given us further clarity and resolve about the importance of our commitment to our Common Ground values and DEI work."

The email stated that UVM is immediately taking steps to help students who no longer want to be taught by Kindsvatter, offering alternative courses by different faculty members so the students can still meet their program's requirements.
Kindsvatter gave his response to the petition in a video posted Tuesday to his YouTube page:
MORE: Read the Smith College whistleblower's powerful resignation letter
IMAGE: screenshot
Like The College Fix on Facebook / Follow us on Twitter