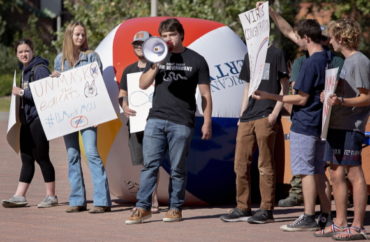 'And don't give into bullies, whether they're college administrators or the U.S. president'
Student leaders with Young Americans for Liberty across the nation are fighting back against the new normal of mandatory masks, weekly COVID testing and vaccine requirements that so many of their peers have come to accept, if not embrace.
For more than six months they have organized protests and rallies, launched petitions, and conducted media appearances as they battle what several chapter leaders described as onerous and unconstitutional regulations in recent telephone interviews with The College Fix.
"Those who lean left were perfectly fine with it because they trusted 'the science,'" said Sara Razi, a junior at Rutgers University and New Jersey state chair for Young Americans for Liberty.
"But there were students like me who were the minority who feel as if we have the right to make our own personal decisions. Starting from there I started speaking out against the vaccine mandate at Rutgers."
Razi led the way, helping to organize efforts as early as last spring, with a May rally on campus that included chants of "my body, my choice" among the 600 or so demonstrators.
But by late September, at least 23 chapter leaders at campuses across the country had reached out to Young Americans for Liberty headquarters to ask what they could do to protest the mandates, Eric Brakey, senior spokesperson for YAL's national office, told The College Fix.
"Stand your ground. Know your rights," Brakey advises.
"Ultimately, this should be a decision that you should talk to your own doctor about. Talk to your doctor about your medical history, your risk factors, and what makes sense for you," he said. "And don't give into bullies, whether they're college administrators or the U.S. president."
Students from Montana State University, Virginia Tech, University of Illinois, and the University of Maine, in addition to Rutgers, are among those to take a stand against the encroachments of their rights.
For Dylan Dean, leader of the YAL chapter at MSU, "It started when Montana State University put out the mask mandate two days into the semester," he said in a phone interview with The College Fix.
He said many students at MSU felt betrayed by this given that MSU had previously rescinded the school's mask mandate. In response, Dean organized a petition, as well as a rally that took place September 24.
At Virginia Tech, Ben Walls, co-president of his school's YAL chapter, organized a petition against its vaccine mandate.
"We were a little angry that Virginia Tech was going to tell us what's best for us and our health care," Walls told Inside Higher Ed. "These vaccines are a personal and private decision that shouldn't be mandated by the school administration."
In Illinois, members of U of I's YAL chapter have worked to make students aware of available religious exemptions to their school's vaccine mandate.
Up at the University of Maine, the school's YAL chapter started a petition to end the mask mandate, stating that "Mandating the use of masks indoors after we have effectively accomplished [herd immunity through vaccination] does not make any sense, as it is no longer necessary to slow the spread of the virus."
At the time the petition was released, the masking requirement was in effect through September 30, but the order has since been extended through at least October 31.
"Nothing surprises us anymore with how crazy things have gotten in society," Brakey said. "But, on the other hand, you'd like to think that things couldn't possibly get this far where you have college administrators mandating masks, mandating injections for every single student that attends university – oftentimes with very short notice, very little accommodation, no accommodation for those with natural immunity, and oftentimes very little accommodation for those with disabilities that put them at high risk for adverse vaccine reaction."
Back at Rutgers, Razi said she is not only still pushing back against vaccine mandates, but is now also taking on masking and testing requirements.
"We are being forced to wear a mask regardless of vaccination status when 98.8 percent of [the] student population is fully vaccinated," Razi said. "The remaining 1.2 percent is not …[and is] forced to undergo testing. … [Then] there are students who are taking online classes and if they did not get the COVID vaccine they are kicked out of their online classes."
Yet, even more palpable is the complete bewilderment Razi expresses when trying to comprehend the logic of these policies.
"Once again, 98.8 percent of the student population is fully vaccinated. There is no point for us to be masked," she said, adding that perhaps "Rutgers is refusing to admit that the vaccine is temporarily effective," which would show "that they were wrong for pushing this vaccine."
"Moving forward," Razi said, "as an organization we are planning on holding universities accountable for…[these] unconstitutional mandates."
At Rutgers this has meant moving forward with a "medical freedom" petition and protest against the school's mask mandate.
MORE: Students clamor for stricter COVID restrictions while partying without masks
IMAGE: YAL courtesy photo
Like The College Fix on Facebook / Follow us on Twitter