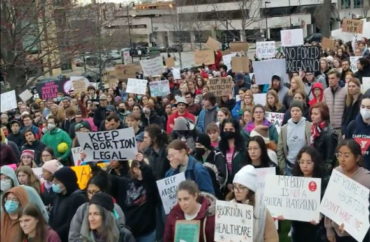 Demonstration organized by student socialist and Marxist groups
MADISON, Wis. — Hundreds of University of Wisconsin students descended on the state capitol building Tuesday evening to protest the possible overturning of Roe v. Wade by the Supreme Court.
Politico reported a leaked draft of a ruling Monday night that would overturn the landmark 1973 decision that made abortion a federal legal right.
In response, several UW student groups, including the International Marxist Tendency, Madison Socialist Alternative and Young Democratic Socialists of America, organized the "emergency protest" event to demand abortion rights.
Members of the crowd held up clothes hangers and signs with pro-abortion slogans such as "keep your politics out of my pussy" and "abort the patriarchal state."
Between speeches, speakers directed the crowd in chants such as "I don't know but it's been said this abortion stuff makes us dead" and "take to the streets and fight as one, this is how Roe is won."
Another chant included: "Abortion is a human right, not just for the cis and white."
"It took a mass movement to win Roe, and it'll take a mass movement to defend it! We need emergency coordinated protests THIS WEEK in every major city and town to kick off a sustained nationwide movement. Beyond protests, we will need mass meetings to plan next steps for the movement including direct action and even strikes," reads a description on the event's Facebook page.
Rebecca Rovins, a member of the Madison Socialist Alternative and Young Democratic Socialists of America, and event organizer, said that Tuesday night's protest in Madison was one of many taking place at campuses across the country.
"We don't want this event to be a one time thing because we know that when Roe was won in the first place in 1973, it was on the backs of several simultaneous mass movements putting pressure on the system and forcing," Rovins said.
"We're here to put pressure on the legislature to strike the ban," she continued.
During the event, speakers from various socialist student groups addressed the crowd from the steps of the capitol, acknowledging a loss of faith in the Democratic party and President Joe Biden and urged crowd members to take action in favor of abortion rights.
"The courts won't save us and neither will the Democrats," Robins told the crowd during her speech.
Another speaker, who identified herself as Ivan from the International Marxist Tendency, decried President Biden's response to the leak, saying that voting for Democrats was no longer a solution for liberals.
"It was voting for Democrats that got us here," Ivan said. "No more faith in the Democratic party."
During one speech, trans-rights activist Julian, who uses he/him pronouns, told the crowd that he had a positive pregnancy test on Election Day 2020 and was unable to make it to the polls to vote for his preferred candidate as President Biden suggested protesters do come November.
"Defending women's rights should not be a G*d-damned debate," he said, inviting a chorus of cheers from the crowd.
T, another speaker who uses they/them pronouns, also shared a personal anecdote with the audience, noting how they had four pregnancies. Two of these had ended in abortion and the other two had miscarried, they said through tears as the crowd cheered.
After giving speeches on the capitol steps, the protest processed down nearby State Street to UW Madison's Memorial Library. The chants along the way continued as police blocked off side streets to make way for the procession.
MORE: Rumored Roe v. Wade reversal prompts pro-life students to pray outside SCOTUS
IMAGES/VIDEOS: Jackson Walker / For The College Fix
Like The College Fix on Facebook / Follow us on Twitter