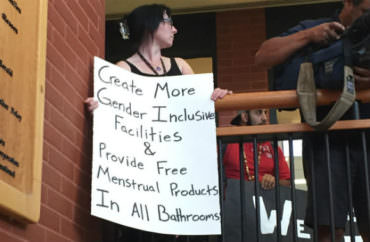 Access to free tampons is a civil right.
That's the argument from a group of activists who are expected to put out a full-page ad in The Washington Post today demanding that U.S. Department of Education Secretary Betsy DeVos* create programs to provide free feminine hygiene products in all school bathrooms across the nation.
A news release published by the activists argues that students who cannot afford tampons and pads must often skip school, thus they are "denied equal learning opportunities."
"Secretary DeVos, you have a profound responsibility to create 'safe and trusted' environments for students across the nation," their ad states, adding she has a "moral obligation" to address this issue.
According to the activists' news release, students today "are forced to wear tampons and pads for far longer than recommended, which puts them at a higher risk of cervical cancer or infections like toxic shock syndrome. Others cannot appropriately concentrate on their studies for fear of leaks."
The activists' full-page ad, which comes in the form of a letter to DeVos, also calls for the feds to advocate for "policies that support students who menstruate," as well as to fund programs "to provide period products for free to students in all school restrooms."
The wording of the ad suggests activists support putting menstruation products in men's bathrooms too, a growing trend seen at colleges and universities across the nation to appease transgender students and their allies, as well as to support the notion that no one's gender can simply be assumed and that gender is also fluid and a choice.
The activists also want the Education Department to commission a study "to determine the impact period poverty has on students in the United States," the ad states.
The activists have called their effort the "United for Access" campaign. Those behind it include a mix of "women's rights advocates, health and education leaders, and menstrual equity activists," including the nonprofit PERIOD group and THINX, which makes "period-proof underwear," the news release states.
Menstrual equity *is* equality! That's why we're calling on city councils, school boards, and public schools across the country to provide free and accessible period products for all of their students. #UnitedForAccess. @periodmovement @jweisswolf @girls_inc pic.twitter.com/pElAh3mRuk

— THINX (@SheTHINX) January 24, 2019
The text of the full-page ad mirrors a petition with the same wording that nearly 35,000 people have signed.
MORE: Students push free tampons based on survey that says women don't want them
MORE: University quickly blows through entire run of 'free' tampons: hoarding, waste
Like The College Fix on Facebook / Follow us on Twitter