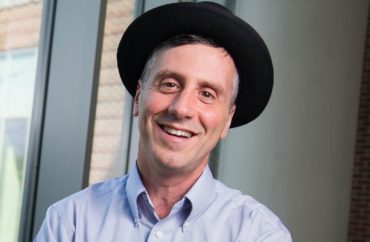 UPDATED
'The only opposition to this program has come from a radical professor who is opposed to economic development'
A Purdue alumnus and a professor, who is also a city councilman in West Lafayette, are at odds over a deal that pays people to live on the Big Ten university's campus.
Bill Oesterle runs a company called MakeMyMove, which gets paid $2,100 for every person making over $70,000 per year who moves to live at the Discovery District, a business development area on Purdue's campus.
The funds to move remote workers from out-of-state to West Lafayette comes from the city and the Indiana Economic Development Corporation.
That doesn't sit well with Professor David Sanders (pictured), a councilman, who sponsored a resolution to oppose the use of taxpayer funds to incentivize relocation.
"He's running for office, he has been a perpetual candidate and is using this as campaign fodder, that's what motivating him…He's even questioned that I grew up in West LaFayette," Oesterle told The College Fix via a phone interview. Sanders disputes the assertion that he questioned if Oesterle grew up in West Lafayette.
"The only opposition to this program has come from a radical professor who is opposed to economic development," he told The Fix, in reference to Sanders.
Sanders is running for state senate and has previously run for Congress.
"The city and the University should not be using taxpayer money to move remote workers to West Lafayette," Sanders told The Fix via email. "We already have insufficient housing, and it makes the community look like it is desperate for residents, whereas West Lafayette is a highly desirable area to live."
MORE: North Carolina university claims open-records law hurts research
"As I investigated the matter, I came to realize that the arrangement exemplified the cronyism that has pervaded Purdue University dealings with ex-trustees," Sanders told The Fix. He shared two articles about money going to Oesterle's company.
Oesterle is a former campaign manager for President Mitch Daniels and a Purdue trustee. Other Daniels allies, including his daughter, have received favorable deals from the university.
Daniels did not respond to two emails sent in the past two weeks that asked about his relationship with Oesterle. The Fix asked if Oesterle approached him about the MakeMyMove deal, how he made the decision while keeping separate his personal relationship with his former campaign manager and if he consulted with an attorney about potential conflicts of interests.
Emails obtained by The Fix through a public records request show Daniels discussed the proposal with Oesterle, Purdue marketing director Ethan Braden and Brad Chambers. Chambers is the Indiana Department of Commerce Secretary and in his role oversees the Economic Development Corporation.
He used his personal Gmail instead of a work email. Chambers did not respond to a request for comment sent to both his Gmail and Kelly Ribich, the listed contact for him, that asked for his involvement in the deal and why he did not use his state email address. The Fix asked if he had any qualms about directing funds to a former Daniels aide.
The vice president of communications for the economic development council reached out on behalf of Chambers but did not address any of the questions asked.
"Information about the IEDC's involvement can be found in the contract on our transparency portal. You can search 'Purdue Research Foundation' in the Vendor Name box," IEDC spokeswoman Erin Sweitzer wrote in an email to The College Fix on July 7.
University uses research foundation for business development
The Purdue Research Foundation is a legally separate entity from the university, but is closely tied. The chairman of the board of the nonprofit is always the president of Purdue, according to the university. It remains unclear how the MakeMyMove program functions physically on Purdue's campus.
"I've confirmed that there are no contracts or agreements between Purdue University and PRF related to this program," Katie Heide, a legal services coordinator with the university, told The Fix via email.
"In a nutshell, Purdue Research Foundation is a separately incorporated 501(c)(3) organization that has been around since 1930," university spokesman Tim Doty told The Fix. "It exists to support the education and research missions of Purdue University. You'll note that one of its key initiatives at present is 'placemaking' to attract investment and talent to the Purdue ecosystem."
He shared a link that explains the foundation further.
Notably, the website shared by Doty explains that the foundation "accepts gifts; administers trusts; funds scholarships and grants; acquires property; protects Purdue's intellectual property; and promotes entrepreneurial activities on behalf of Purdue."
The research foundation denied any impropriety involving Oesterle and Daniels.
"Purdue Research Foundation was approached to participate in a pilot program that proved successful – an initial cohort of 14 people chose to move to the Greater Lafayette area (these are professionals and not living on campus or in campus housing)," foundation spokesman Steve Martin told The College Fix via email.
"After the success of the pilot program, the Indiana Economic Development Corporation decided to fund the initiative," Martin stated. "We are now part of 153 municipalities across the nation that use Make My Move, including almost 10 other locations in Indiana."
"Mr. Oesterle, not holding an officer position nor being a relative nor having any other relevant 'related party' relationship, did not represent a conflict," he stated in his email. "Mr. Oesterle grew up in West Lafayette, is himself a Purdue alumnus, and has a well-known interest in seeing Greater Lafayette, the city and the university thrive."
MORE: Purdue initiative will study how to produce medicine in America
The claim that professionals are "not living on campus" takes a big stretch of the imagination.
According to the research foundation, whether or not someone lives "on campus" does not refer to physically where they live, as the plain language would suggest, but rather if someone is a student or not.
"Purdue University is building a first-of-its-kind community of (and for) remote workers," the MakeMyMove website states. "Come live on campus, access university resources and network with builders, business folks and boilermakers of all stripes."
"The people who have chosen to move are not students, therefore they do not live 'on campus,'" Martin stated on June 28 when asked for clarification. "They can choose their housing from options including campus-adjacent apartments in the Discovery Park District and housing in the Greater Lafayette area."
A July 5 news release discussed the "housing boom…underway at Discovery Park District at Purdue."
"Meantime, the 830-bed Aspire, a four-building apartment project that opened in 2019, is fully leased and is scheduled to be folded into Purdue's residence hall system," the news release stated.
Oesterle says he has no investments in the districts
Oesterle told The Fix he does not have any financial interests in the district.
He also denied that he has changed his mind about whether people should live in Indiana. Though critical of Professor Sanders for opposing "economic development," Oesterle, as CEO of Angie's List, canceled an investment in response to a 2015 religious freedom law.
Oesterle previously canceled a $40 million investment by Angie's List in the state after it passed a religious freedom law (which then-Governor Mike Pence watered down after being lobbied by corporate leaders, including Oesterle).
"Well nothing changed my mind. I've always been a huge advocate of Indiana and our need to recruit people from out of state," he told The Fix during the phone interview.
"We have a workforce issue that our workforce is now declining, and we better find workers. I've been saying that for 25 years. So I never said 'oh this is not a place to live.' What I said was that 'government was making…attracting [workers] more difficult with that policy.'"
"There was no repeal of RFRA and no end to discrimination of homosexuals in Indiana," Oesterle stated in 2015, explaining his decision not to restart investment in the state even after the amendment to the Religious Freedom Restoration Act.
MORE: Purdue health equity director rakes in $500K
Editor's note: After publication, Sanders told The Fix he disputed the claim by Oesterle that he questioned if he had grown up in West Lafayette.
IMAGE: Purdue University
Like The College Fix on Facebook / Follow us on Twitter