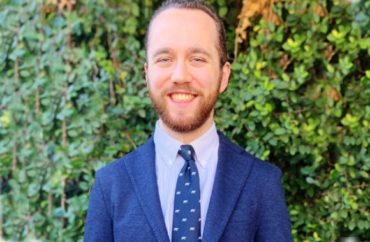 UPDATED
There is 'intense pressure on Chinese students to enforce ideological conformity,' the anti-CCP activist says
The Chinese Communist Party continues to see American universities as a target for infiltration, an intelligence analyst and activist against the CCP told The College Fix recently.
"[T]he Chinese government sees its students abroad as an extension of itself," John Metz, the president of the Athenai Institute, told The Fix via email. Separate from his activism work, he runs a private intelligence firm.
The Athenai Institute is a student-founded organization with the stated mission of encouraging American universities to "divest from the CCP and any entity that aids its ongoing campaign to spread its totalitarian, genocidal political system," according to its website.
His group has brought together College Republicans and Democrats to advocate for the closure of Confucius Institutes, which China uses as front for its propaganda.
The CCP puts "intense pressure on Chinese students to enforce ideological conformity" to the Communist orthodoxy and even encourages students to "inform on each other to its intelligence agents," Metz (pictured) told The Fix.
Metz cited an example of CCP-centered nationalistic behavior at Columbia University, where the university's Chinese Students and Scholars Association hosted an event this semester at which the Party's acting Consulate General Jiang Jianjun spoke to students and faculty.
The consulate general encouraged students to "maintain… correct judgment on major issues involving… territorial integrity," according to an English translation of a transcript provided by the Chinese consulate in New York. Though it is not clear whether or not the consulate general elaborated on what he meant by "territorial integrity," Metz wrote that the political leader was referring to potential plans to take military action against Taiwan.
In the speech, he also told students to "stay ambitious and combine personal careers with the development of the motherland to study for the great revival of the Chinese nation."
MORE: African students flood Confucius Institutes to bolster job prospects
This nationalism in support of the Communist leaders of China could reduce the likelihood that university administrations will "stand up for students' rights" for free expression or "report instances of intellectual property theft or unethical research practices" that strengthens the Chinese Communist Party's ability to wield power in China and abroad, according to Metz.
Metz also noted that $1 billion went from China to American universities from 2013 to 2020, according to a Department of Education report.
Metz wrote that much of this $1 billion supports Confucius Institutes and joint degree programs with Chinese universities. This is particularly concerning because both of these examples allow the Chinese Communist Party to "exercise direct control" over "textbooks, hiring practices, and acceptable narratives about China's history." Metz expressed concern that these grants "create a dangerous financial incentive for universities to look the other way" when pro-CCP students attempt to censor critics.
The Chinese Communist Party also provides significant funding to support technological research. Metz cited the particular example that, in August, researcher Dinesh Manocha at the University of Maryland accepted a $125,000 grant from Alibaba, a Chinese technology company, to develop machine learning-based software designed to "predict the behavior of each pedestrian" in an urban setting, according to documents obtained by The Daily Beast.
In 2020, Alibaba received publicity when researchers discovered that the company had developed artificial intelligence software that could identify ethnically Uyghur individuals in photos and videos. This drew great attention as the Chinese government has been responsible for the genocide of over 1 million Uyghurs in its western provinces since 2017.
Universities must be aware of how the money they receive for research can be used to aid the human rights abuses perpetrated by the CCP.
Metz told The Fix that refusing CCP funding and ensuring that American universities do not assist the Communist regime in developing technology is essential for "preventing [the CCP] from exporting its system of governance around the world."
Editor's note: The article has been updated to clarify Metz' activism and private sector work and add the quote in the second graf.
MORE: Florida bans Confucius Institutes on college campuses
IMAGE: John Metz/LinkedIn
Like The College Fix on Facebook / Follow us on Twitter