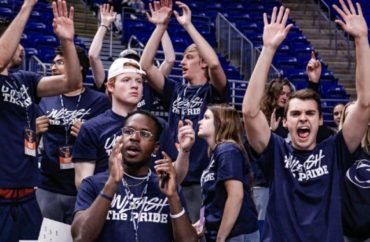 UPDATED
No proof Penn State fans used racist language, university confirms
The latest allegation that college sports fans used racist language fell apart after Pennsylvania State University officials investigated the claims.
Penn State officials recently announced that allegations that its fans had directed racist language at Rutgers University basketball players were without merit.
Some fans did use vulgar language, but none used racist slurs, an investigation revealed. The claims were made against the "Legion of Blue," which is the fan student section for men's basketball games at PSU.
The university announced:
Further investigation into reported fan behavior at the Penn State versus Rutgers basketball game on [Feb. 26] has found that no apparent racial slurs were used by Penn State fans. A deeper look into the matter today included conversations with Rutgers athletic director and staff, reports from University police officers at the event, and other game staff. Information was inaccurately conveyed to the Legion of Blue student group, which supports Penn State men's basketball, and has not been found to be true.
"[Intercollegiate Athletes] is aware that some fans were using vulgar language directed toward Rutgers players and fans, and we are disappointed as it does not represent Penn State values, appropriate fan conduct, or the Happy Valley," the university further stated. "Hospitality for which we are known. Fan behavior is important to the experience of all teams and visitors to Penn State and our goal is to create an environment that is competitive, but welcoming."
Penn State's head coach did not rush to judgment on the validity of the accusations, initially condemning the allegations if they were true.
"If anything did happen — we're checking into everything — but if anything did happen, that's something that is completely unacceptable," Shrewsberry said.
His response is different from that of University of South Carolina coach Dawn Staley who quickly to condemn Duke University and cancel an upcoming women's basketball game based on allegations that a black Duke volleyball player had been subjected to racist language.
The cancellation, which Staley stood by, came after Rachel Richardson falsely accused Brigham Young University fans of using racist language at her, a claim edited and amplified by her liberal godmother, a political activist with a history of her own of using racially charged language. BYU officials initially banned an individual with special needs from future athletic events before retracting the punishment after student journalists debunked the claims.
Staley had said prior to her decision to cancel that game that she had "vetted" the accusations. She stood by her decision to cancel a future game against BYU even after the claim had been thoroughly discredited.
The debunked claim did not stop another school, University of Pacific, from canceling a women's volleyball game against BYU.
Editor's note: The last name of Dawn Staley has been corrected.
MORE: Here are 14 times campus hate crimes turned out to be hoaxes
IMAGE: Legion of Blue/Twitter
Like The College Fix on Facebook / Follow us on Twitter