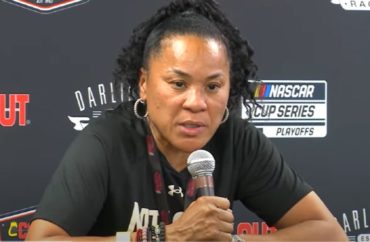 University of South Carolina coach Dawn Staley has no regrets about canceling games based on debunked claim
A college women's basketball coach who fell for a hoax about a black volleyball player being called the "N-word" and canceled two games against Brigham Young University as a result does not regret her decision.
"I continue to stand by my position," University of South Carolina's Dawn Staley said, according to a media statement sent to The College Fix by the university's women's basketball contact Diana Koval.
Staley said she had "vetted" the accusations from Duke's Rachel Richardson that the player had been called the "N-word" in August during a game against BYU and as a result canceled games in 2022 and 2023 against the university.
A thorough investigation from the Mormon university that included interviews with more than 50 people and a review of video from the game yielded no suspects. A special needs individual who had been labeled as the racist by Duke's volleyball team has been unbanned from games and issued an apology form BYU.
"After my personal research, I made a decision for the well-being of my team," Staley (pictured) continued in her statement. "I regret that my university, my athletics director Ray Tanner and others got drawn into the criticism of a choice that I made."
Even at the time of her decision, all BYU had done was identify someone based on an accusation from Duke players – it did not have video of that individual saying the slurs.
Others who rushed to condemn the incident before any video had emerged backtracked on their statements.
"I'm disgusted that this behavior is happening and deeply saddened if others didn't step up to stop it," Utah's Republican Governor Spencer Cox tweeted on August 27, just a day after allegations began to circulate thanks to Richardson's godmother, Lesa Pamplin. The political candidate from Texas claimed that "every time" Richardson served, someone uttered the "N-word," a statement at odds with her goddaughter's own claims.
"As a society we have to do more to create an atmosphere where racist a**holes like this never feel comfortable attacking others," Cox wrote.
https://t.co/eMbb3GFMTL pic.twitter.com/TBhaoaDDCo

— Spencer Cox (@SpencerJCox) September 9, 2022
His office referred The Fix to the statement he posted on Twitter.
"After recently reported allegations of racism, I followed BYU's own statement and condemned the incident in the strongest possible terms," Cox said. "Subsequently, it appears that neither the school, the media, law enforcement nor anyone else in the arena has been able to confirm these allegations."
"I will always speak out against racism. I also believe it is important to step back and acknowledge new facts as they come to light and speak publicly about them as well," he wrote. "Part of that requires patience, something I could have done better in this situation. I apologize to the fan who apparently was unfairly singled out."
Governor Cox also deleted his previous tweet that condemned BYU and the accused fan.
An ESPN commentator said he would not accuse Richardson of lying, but urged others to be more cautious in the future before believing claims of racism.
"I'm saying BYU- you did it," ESPN's Stephen Smith initially said on air. "By allowing this to happen and not addressing expeditiously, not addressing it with a level of quickness and speed that you should've addressed this with."
ESPN did not respond to a request for comment from Smith on his statements about the situation.
The Fix emailed ESPN's general email but has received no response.
Smith responded to BYU's investigation and said it could be taken "one of two ways" and now, after an extensive inquiry had yielded no proof of the incident, Smith suggested some people could be "skeptical" about the results.
"You can either believe BYU and take them at their word, or you can be a bit cynical and skeptical about them drawing this conclusion, questioning what level of veracity should we attach to them," Smith said. "Pick your side."
"Racism, prejudice, still exists in this country," Smith said. He said "we're not doing ourselves any favors if we bring it up and broach it [racism] when it doesn't exist."
He said he was "not saying" that Richardson's "allegations were false" but that he wanted other people to know to be careful not to jump to conclusions about racism without strong evidence.
Other commentators have not withdrawn past statements.
Mike Freeman, the race and inequality editor for the sports section at USA Today, wrote a column on September 7 that called the investigations by those who debunked the allegations a "right-wing conspiracy theory" akin to the conspiracies of "QAnon."
That followed an August 27 column where he called Richardson a "hero" and called for an in-depth investigation. "What needs to happen next is a full investigation by BYU. If the school simply tries to move on with nothing but a statement that simply isn't acceptable," he wrote. "They need to interview players and coaches and the question consistently needs to be asked: why wasn't the game stopped?"
He has not responded to The Fix's email for further comment and has not written any further columns after the "full investigation by BYU" yielded no proof of racism.
Duke's athletics director Nina King did not retract her previous comments. Duke athletes "should always have the opportunity to compete in an inclusive, anti-racist environment which promotes equality and fair play," King said on August 27.
After BYU released its statement concluding there was no evidence of Richardson's allegations, Duke University vice president and director of athletics Nina King responded:
The 18 members of the Duke University volleyball team are exceptionally strong women who represent themselves, their families, and Duke University with the utmost integrity. We unequivocally stand with and champion them, especially when their character is called into question. Duke Athletics believes in respect, equality and inclusiveness, and we do not tolerate hate and bias.
Duke has not responded to The College Fix's email asking if it has any further statements.
MORE: Racism is dead
IMAGE: News 19 WLTX/YouTube
Like The College Fix on Facebook / Follow us on Twitter