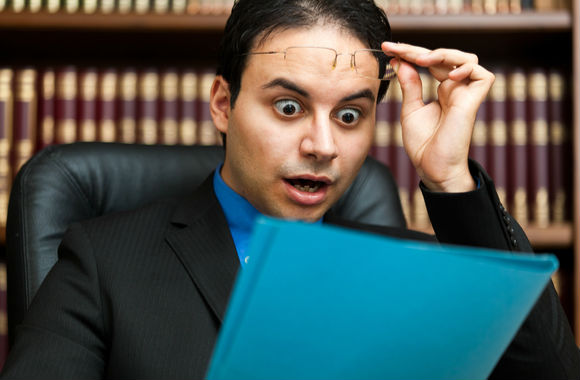 10 hours of community service for rape suggests the guilty finding was for show
An accuser who allegedly threatened to kill herself when her hookup tried to leave after the sexual encounter.
A new charge of sexual assault "by force" that came out of nowhere after the accuser went on a "media blitz" in response to the exoneration of the accused student.
A finding that contradicted the evidence its own investigator compiled – and a despicably mild sanction if "John Doe" really did rape "Jane Roe."
Last week the 8th U.S. Circuit Court of Appeals reinstated John's anti-male bias lawsuit against the University of Arkansas for a Title IX proceeding that, by all appearances, was intended to find him guilty without completely destroying his life.
John filed a broader suit two years ago this month that also alleged due process violations, but the 8th Circuit declined to reinstate those.
What it did instead was question the sufficiency of indirect cross-examination when a hearing panel refuses to ask an accused student's particular questions. John, however, did not allege any specific questions that were denied.
MORE: UArk punishes exonerated student after accuser goes on 'media blitz'
The university highlighted the dismissal of due process claims in a statement to the Arkansas Democrat-Gazette but declined to comment on the reinstated Title IX claims. John's lawyer Heather Zachary called the ruling "a victory for college students everywhere" but was considering whether to appeal the due-process loss.
UArk still hasn't given them the hearing transcript, which she said "will further reveal" the "fundamentally unfair" process the university used against John.
The ruling is drawing praise from due process advocates for using the plaintiff-friendly pleading standard set forth by the 7th Circuit in a similar ruling against Purdue University last year.
The three-judge panel said John's allegations, "taken together, are sufficient to support a plausible claim" that UArk discriminated against him "on the basis of sex." The 3rd and 9th circuits also adopted that standard in just the past three months.
Brooklyn College Prof. KC Johnson, who chronicles Title IX litigation, and Samantha Harris, senior fellow at the Foundation for Individual Rights in Education, both surmised that the ruling would bar the so-called single investigator model. (It is already banned under the Department of Education's new Title IX regulation.)
CA8 becomes the third circuit–joining CA3 and CA9–to adopt Judge Barrett's plaintiff-friendly pleading standard from the CA7 opinion in Purdue. pic.twitter.com/dn6kosXpHT

— KC Johnson (@kcjohnson9) September 4, 2020
Accuser belatedly claims 'incapacitation' and 'by force' are the same
The university's main problem in the litigation was that its appeals ruling against John was not consistent with what its own investigation found: namely, that Jane was not incapacitated by intoxication when she slept with John.
While the appeals court must take John's version of events as true for the purpose of this motion, Johnson said "the basic facts" in the 8th Circuit's analysis "do not appear to be in dispute."
While Jane was drinking at a party when she started texting John, she explicitly told the university investigator she was "not drunk" and did not drink anything at his apartment.
Jane changed her story after her "apparent" suicide attempt, which followed John taking her home against her wishes. Her Title IX complaint claimed that she "believes sexual contact occurred" when she was "too intoxicated" to give consent. Incapacitation is distinct from UArk's prohibition on sexual contact "by force."
Both the university's own investigation and the municipal police investigation, which interviewed Jane's Uber driver, concluded she was not incapacitated. (The police said Jane's statements to them "showed several inconsistencies" with what she told UArk.)
MORE; 9th Circuit (yes, that 9th Circuit) reinstates anti-male bias lawsuit against ASU
She sent John "coherent, error-free, and goal-oriented" text messages on her Uber trip to John's apartment, giving John no reason to think she was incapacitated when she arrived, Title IX Coordinator Tyler Farrar concluded.
Jane tried to circumvent this reasoning in her appeal by claiming that "incapacitation" and "by force" were not mutually exclusive, even though she did not accuse John of forcible sexual contact in her original complaint.
Alarmed by this flip-flop, John asked Farrar to clarify whether he was being charged with sexual assault by force. The coordinator refused to tell him before the appeal hearing.
This new panel, ignoring the university's own findings, said the record did not show that Jane had consented – putting the onus on John to prove his innocence. The 2-1 majority claimed he should have "acknowledge[d]" Jane's intoxication when she arrived, despite Farrar's finding that Jane gave no red flags, and that John had "motivation to skew the truth."
The sanctions for sexual assault: 10 hours of community service, Title IX training and "an online sexual violence accountability course." While John was allowed to graduate, the stain of the sexual assault finding will follow him in every job and graduate school application.
No explanation how reversal 'supersede[d]' evidence of capacity to consent
The 8th Circuit panel was persuaded by John's extensive evidence of the pressure UArk was under to find males guilty of sexual assault, which also explains the inexplicably mild sanction he received.
It was under investigation by both the U.S. Department of Education and Arkansas Legislature for "a pattern and practice of improperly investigating Title IX cases," and had been sued by a female athlete for not properly handling her accusations against a male athlete. The pressure came from both student activists and media outlets.
Jane herself went on a "media blitz" after the university exonerated John, starting a "campus-wide protest of the Title IX office." It was fearful of losing state and federal funding, getting sued by Jane and other accusers, and drawing "overall scrutiny" from the media and student body, explaining the appeals panel's otherwise inexplicable ruling against him, John argued.
"Roe's actions brought significant media attention to the University's handling of the incident, and prompted a public statement by the University," the three-judge panel said: It was under "multiple fronts" of pressure to find males guilty of sexual assault.
The UArk appeals panel "reached an outcome that was against the substantial weight of the evidence" when it concluded Jane was incapacitated, since she claimed she "did not remember whether she consented."
It made no findings that would "supersede" the extensive evidence of Jane's capacity to consent to sex compiled by Farrar, the Title IX coordinator: Not only were her text messages coherent but she even spelled a street name correctly while she narrated her location to John from the Uber ride. Farrar found no evidence she drank with John or had consumed a lot of alcohol right before heading to his apartment.
Finally, "Doe alleged that the University was under pressure on multiple fronts to find males responsible for sexual assault." These three allegations combined "are sufficient to support a plausible claim that the University discriminated against Doe on the basis of sex."

— Samantha Harris (@samk_harris) September 4, 2020
MORE: 7th Circuit rebukes Purdue for hiding evidence from accused student
While the UArk appeals panel explained its mild sanction for "sexual assault by force" as a result of "extremely close factual determinations that were very difficult to make," John said it deviated immensely from the typical sanction: expulsion. This suggests it simply wanted to "avoid further negative media attention and to portray a stricter approach to sexual assault cases" by finding him guilty.
"These circumstances, taken together, are sufficient to support a plausible claim that the University discriminated against Doe on the basis of sex," the 8th Circuit ruled, citing the ignored "substantial weight of the evidence," sanction that is "inconsistent with ordinary practice," and "external pressure" on the university.
John adequately alleged "a dubious decision in his particular case taken against the backdrop of substantial pressure on the University to demonstrate that it was responsive to female complainants," the three-judge panel ruled, greenlighting the case to move into discovery and "further factual development," including the UArk appeals panel's full decision.
John won't get to further argue his due process claims, however. He had notice that the university panel might consider Jane's "by force" argument because she raised it in her own appeal, so he didn't need to receive notice from the panel itself, the 8th Circuit said.
UArk didn't put the burden of proof on him in the appeal, as he claimed, because the panel's "credibility determinations" concluded that Jane "did not consent." That means the university "overcame the presumption of non-responsibility."
As for depriving him direct cross-examination, John "does not identify any material flaw in this proceeding," only that the panel omitted "important points" from his proposed questions and didn't ask "pertinent follow up questions." He needed to make a "stronger allegation" to survive dismissal of his due process claim, the court said.
MORE: 3rd Circuit throws door open to anti-male bias lawsuits against universities
IMAGE: Minerva Studio/Shutterstock
Like The College Fix on Facebook / Follow us on Twitter